Stasiun Agro-meteorologi Cerdas Kecil adalah stasiun cuaca otomatis kecil yang bertujuan untuk memantau lingkungan ekologi pertanian (lahan pertanian, kebun buah, rumah kaca, gudang dan lingkungan lainnya, dan lingkungan pertanian dalam kegiatan produksi, seperti suasana pemutihan, penyemprotan, penyimpanan produk dan sebagainya di). Elemen yang diamati meliputi suhu udara, kelembaban relatif, kecepatan & arah angin, keseluruhan radiasi, suhu & kelembaban tanah, curah hujan dan parameter atmosfer lainnya, yang dapat mendasarkan pada permintaan pengguna untuk pelanggan elemen pengukuran lainnya, seperti penguapan, durasi sinar matahari, CO2, radiasi efektif fotosintesis. PH tanah, EC tanah dan elemen lainnya. Ketinggian ukur umumnya adalah 2 atau 6 meter mulai dari ketinggian vegetasi.
RK900-01 Stasiun Cuaca Otomatis
RK900-01 Automatic Weather Station digunakan untuk pengukuran suhu atmosfer, kelembaban relatif, tekanan atmosfer, kecepatan & arah angin, radiasi matahari, cahaya, curah hujan, suhu tanah, dan pengukuran parameter kelembaban.Ini dapat digunakan secara luas dalam meteorologi, hidrologi, pertanian, kehutanan , penelitian ilmiah dan bidang lainnya.
RK100-02 Sensor Kecepatan Angin, RK110-02 Sensor Arah Angin Sensor kecepatan & arah angin mekanik: rentang kecepatan: 0-30m / s, 0-45m / s, 0-60m / s opsional. Resolusi: 0.1m / s. Arah ragen: 0-360 °, resolusi: 1 °.
RK300-01 Sensor Tekanan Barometrik Terpasang di Dinding Sensor tekanan barometrik dengan Layar LCD opsional
RK400-01 Pengukur Hujan Tipping Bucket Sensor curah hujan tip bucket: mengukur curah hujan real-time atau kumulatif. dengan 0,2 mm, 0,5 mm, resolusi 1 mm opsional
RK200-02 Sensor Par Mengukur radiasi matahari dalam panjang gelombang 400 ~ 700nm. Ini dapat langsung menghasilkan nilai radiasi dalam satuan μ * mol / m2 * s.
RK210-01 Sensor pencahayaan
Sensor RK300-03 CO2
RK500-01 Sensor suhu tanah
RK510-01 Sensor kelembaban tanah
Sensor RK500-02 PH
RK500-03 Sensor salinitas / EC
Struktur
Stasiun agro-meteorologi lahan pertanian terbuat dari sensor atmosfer, data logger (RTU), dan power supply yang sangat mendukung hasil pertanian, produksi pertanian, peternakan dan lain sebagainya.
Soil / Liquid Temperature Sensor RK500-01
Deskripsi
RK500-01 Sensor Suhu Tanah / Cairan digunakan untuk mengukur suhu tanah atau media cair, diterapkan pada stasiun meteorologi otomatis, pengujian suhu tanah, deteksi suhu air kolam atau reservoir, dan bidang lainnya. Produk ini dapat digunakan ke dalam air atau terkubur di dalam tanah. Sensor dengan resistansi termal yang presisi sebagai komponen penginderaan, pengambilan sampel sinyal dan amplifikasi, fungsi drift nol dan kompensasi suhu, memiliki karakteristik presisi pengukuran tinggi dan stabilitas yang baik.
FITUR
* Pengukuran suhu real-time
* Ketahanan korosi yang baik, cocok untuk semua jenis tanah
* Akurasi tinggi
* Linearitas yang baik
* Semua probe stainless steel
APLIKASI
* Pemantauan lingkungan
* Stasiun cuaca
* Akuakultur
* Deteksi suhu tanah
* Pemeliharaan air
* Pertanian
TECHNICAL SPECIFICATION
| | |
| --- | --- |
| Item | Technical Specification |
| Range | -20-+50℃,-50-+100℃ |
| Supply | 5VDC,12-24VDC |
| Accuracy | ±0.5℃ |
| Response Time | <1s |
| Output Signal | PT100/PT1000 class A (3-wires),4-20mA,0-5V,RS485 |
| Operating Temperature | -50℃-+80℃ |
| Ingress Protection(probe) | IP68 |
| Storage | 10-60℃@20%-90%RH |
| Size | 4-20mA,0-5V,RS485: Probe:Ø19 ×119 mm,Transmitting module:Ø27*120mm PT100: Probe:Ø6 ×50mm |
| Probe weight(unpacked) | 145g |
| Housing material | 304 stainless steel |
If you select 4-20mA,0-5V,RS485 output,need add transmitting module.
Untuk selengkapnya kunjungi link berikut : https://alatuji.co.id/product/soil-liquid-temperature-sensor-rk500-01/
Wind Speed Sensor RK100-02
Deskripsi
Sensor Kecepatan Angin RK100-02 menggunakan anemometer 3-cangkir sensitif yang dirancang untuk mengukur kecepatan angin dan putaran angin. Cangkir terbuat dari bahan serat karbon, dengan intensitas tinggi dan ambang awal yang rendah. Unit pemrosesan sinyal dibangun dalam cangkang pelindung. Dapat digunakan secara luas dalam bidang meteorologi, kelautan, pemantauan lingkungan, bandara, pelabuhan, laboratorium, industri dan pertanian.
FITUR
* Ambang mulai rendah
* Keseluruhan bahan serat karbon
* Kemampuan tahan korosi yang kuat
* Struktur cahaya
* Berbagai sinyal keluaran opsional
* Instalasi Mudah
APLIKASI
* Stasiun pemantauan cuaca
* Pemantauan keamanan peralatan ketinggian tinggi
* Port
* Pembangkit listrik tenaga surya dan angin
* Kendaraan pemantau cuaca bergerak
* Kapal laut
* Bandara & helipad terpencil
* Jalan & terowongan n
SPECIFICATIONS
Output
Pulses
4-20mA
0-5V
RS485
Supply Voltage
5V,12V-24V
5V,12V-24V
5V,12V-24V
5V,12V-24V
Load Capacity
>1kΩ
<500Ω(typ 250Ω)
>1kΩ
Range
0-45m/s
0-45m/s
0-45m/s
0-45m/s
Accuracy
±(0.3+0.03V)m/s; (V is the current wind speed)
Starting Threshold
<0.5m/s
Limit Wind Speed
50m/s
Ingress Protection
IP65
Operating Temperature
-40℃~ +50℃
Cable Grade
Nominal voltage:300V ,Temperature grade:80℃
Weight(unpacked)
170g
Dimension
Cup rotor:179mm,Height:160mm
Main material
Carbon fiber
Storage Condition
10℃-50℃@20%-90%RH
The output voltage amplitude is 5V.
Untuk selengkapnya kunjungi link berikut : https://alatuji.co.id/product/wind-speed-sensor-rk100-02/
Data Logger of Automatic Weather Station RK600-02/02B
Deskripsi
Data Logger RK600-02 / 02B dengan akuisisi data, penyimpanan, transmisi dan manajemen, dan fungsi lainnya, adalah komponen inti dari stasiun cuaca otomatis, yang dapat menghubungkan 16 parameter pada saat yang sama, memiliki pengaturan dan layar LCD, dapat berkomunikasi dengan PC melalui koneksi kabel atau nirkabel, menyediakan protokol komunikasi, nyaman untuk pengembangan sekunder.
FITUR
* Tampilan real-time
* Beberapa antarmuka sensor
* Penyimpanan besar
* Jenis antarmuka komunikasi
* Penyimpanan eksternal Udisk opsional
* Nirkabel opsional
* Chip jam mandiri
* Catu daya surya opsional
SPECIFICATION
| | |
| --- | --- |
| Item | Details |
| LCD | 192 * 64 |
| Internal storage | 12M (If set to store every 1 hours can store data for more than 4 years; If set to store every 10 minutes can store data for approx. 1 years; If set to store every 1 minute can store data for 30 days) |
| External storage | Use special U disk to store data (optional function) |
| Data interface | RS232, RS485, USB |
| Communication mode | Ethernet(add RS232 to ethernet converter); GPRS(add RS232 to GPRS converter),data flow consumption: <100MB/month WIFI(add RS232 to WIFI converter) |
| Communication protocol | MODBUS-RTU(Open communication protocol, the user can convenient for secondary development) |
| Supply | 12VDC, AC110V, AC220V, solar power supply system optional |
| Record interval | 1min-240min adjustable |
| Input parameter | 16 max. |
| Power consumption | <2W |
| Operating temperature | -40-+75℃ |
| Weight (unpacked) | 3.2kg |
| Dimension | 310*218*120mm |
| Shell material | RK600-02:ABS(Installed in protective box,protective box is optional) RK600-02B:Aluminum alloy(outdoor use directly ) |
| Meteorological monitoring software | Use to display, analysis and storage data on the PC |
Untuk selengkapnya kunjungi link berikut : https://alatuji.co.id/product/data-logger-of-automatic-weather-station-rk600-02-02b/
HOBO RX3000 Remote Monitoring Station Data Logger
HOBO RX3000, stasiun pencatatan data jarak jauh Onset yang paling fleksibel, menyediakan akses instan ke data lingkungan spesifik lokasi di mana saja, kapan saja melalui internet. Stasiun ini menggabungkan keserbagunaan dan kualitas sensor dari sistem yang lebih mahal, layar LCD onboard, dan kenyamanan pengoperasian plug-and-play. RX3000 adalah sistem yang dapat dikonfigurasi.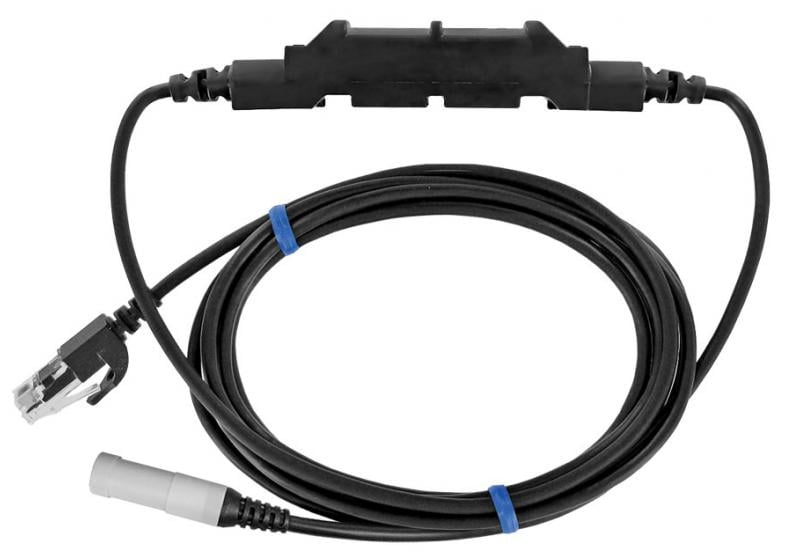 12-bit Temperature/Relative Humidity (2m cable) Smart Sensor
Sensor Cerdas Suhu / Kelembaban Relatif 12-bit dirancang untuk bekerja dengan semua pencatat data Onset yang menerima Sensor Cerdas. Semua parameter sensor disimpan di dalam Smart Sensor, yang secara otomatis mengkomunikasikan informasi data konfigurasi ke logger tanpa pemrograman, kalibrasi, atau pengaturan pengguna yang ekstensif.
Smart Barometric Pressure Sensor S-THB-M002
Sensor Cerdas Tekanan Barometrik memiliki rentang pengukuran 660 mb hingga 1070 mb (19,47 hingga 31,55 inHg), dan dapat melakukan pengukuran rata-rata untuk mendapatkan akurasi tertinggi. Kisaran suhu pengoperasian untuk sensor ini adalah -40 ° hingga 70 ° C (-40 ° hingga 158 ° F). Sensor pintar tahan cuaca ini dipasang di luar enklosur pencatat data.
Untuk selengkapnya kunjungi link dibawah :