HOBO Automatic Weather Station RX-3000 Memberikan informasi yang akurat dan andal untuk keputusan pengelolaan tanaman pada pertanian yang lebih cerdas.
HOBO RX3000 Remote Monitoring Station Data Logger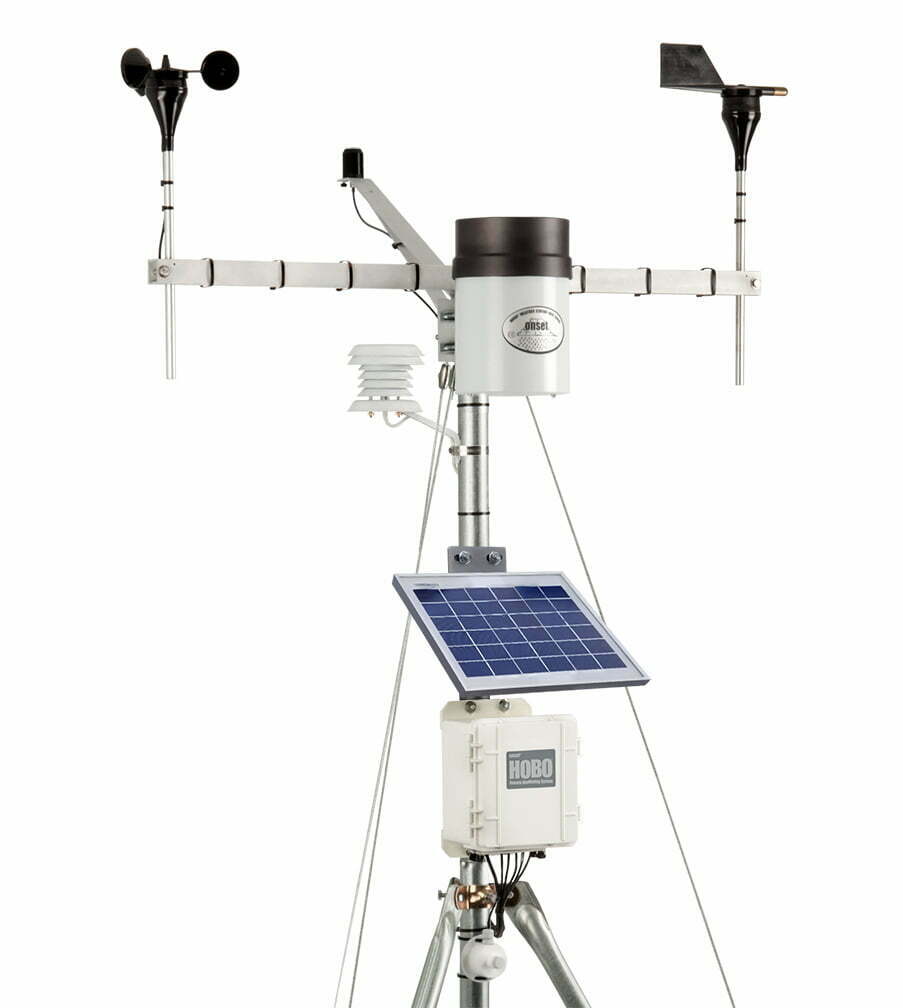 Highlighted Features
Dukungan fleksibel untuk berbagai sensor
Akses data berbasis cloud melalui HOBOlink
Dapatkan akses web 24/7 ke data Anda melalui browser web
Layar LCD untuk penempatan lapangan yang mudah
Verifikasi status sistem RX3000 dari jarak jauh
Atur dan kelola pemberitahuan alarm melalui web
Jadwalkan pengiriman data secara otomatis
Operasi plug-and-play
Pemberitahuan alarm melalui teks, email dan sms
Kandang ganda tahan cuaca kasar
Opsi seluler, Wi-Fi, dan Ethernet tersedia
Dapat dikonfigurasi dari perangkat seluler Anda
Read More
Untuk memaksimalkan efisiensi dan kualitas pertanian, Anda memerlukan solusi pemantauan cuaca pada area tanam yang memungkinkan Anda Untuk :
Meningkatkan produktivitas
Mendapatkan hasil panen yang lebih banyak dan berkualitas lebih tinggi
Memangkas Biaya pengeluaran
Semuanya bisa anda dapatkan dengan menggunakan HOBO Automatic Weater Station, Kecerdasan sistem yang memberi Anda kebebasan untuk memantau kondisi tanah, air, dan angin dari rumah, atau dari mana saja, kapan saja!
Inilah 8 solusi untuk menigkatkan kualitas perkebunan Anda :
1. Data Realtime yang bisa diakses di mana saja
Menerima laporan real-time dari kondisi kritis dan tampilan terperinci data pemantauan kondisi cuaca, semuanya dalam satu dasbor yang dapat disesuaikan. Peringatan melalui sms / email jika kondisinya mencapai ambang batas yang ditetapkan pengguna. Pengukuran: kelembaban tanah, temp / RH, cahaya (PAR & radiasi matahari), kecepatan & arah angin, kelembaban daun, tekanan barometrik, ketinggian air, evapotranspirasi yang dihitung
12-Bit Temperature Smart Sensor
Overview
The 12-bit Temperature Smart Sensor provides < ± 0.2° C total accuracy (< ±0.36° F) and resolution of < ± 0.03° C (< ±0.054° F) over the range of from 0° to 50° C (32° to 122° F). The full measurement range is -40° to 100° C (-40° to 212° F). A selectable measurement-averaging feature further improves accuracy. Available in cable lengths of 2m, 6m and 17m.
Highlighted Features
Measurement range of -40° to 100°C (-40° to 212°F)
Stainless steel sensor tip
Sensor and cable rated for immersion in water or soil up to 50°C for up to 1 year
2. Memberikan informasi  kondisi cuaca yang tepat sebelum meyemprotkan pembasmi hama
Menhindari pemberian pestisida ketika tidak di butuhkan dan menentukan risiko munculnya penyakit atau hama dengan memastikan kondisi angin, suhu, dan kelembaban.
Wind Speed and Direction Set Smart Sensor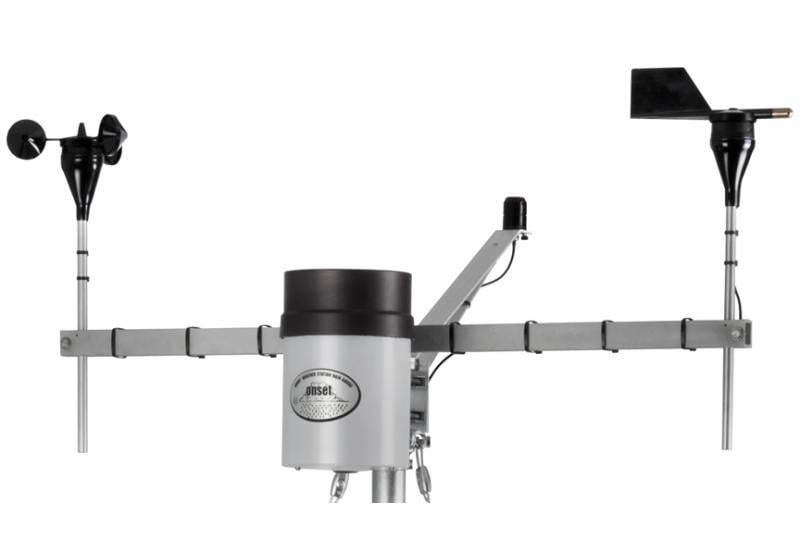 Overview
The Wind Sensor Set includes Onset's research-grade plug-and-play Wind Speed Smart Sensor and the Wind Direction Smart Sensor. This combination provides average wind speed, highest 3-second wind gust, and average wind direction for the measurement interval. These durable sensors will provide many years of accurate and reliable performance.
NOTE: Mount these on the M-CAA Full Cross Arm for proper sensor spacing for accurate wind measurement in all wind directions.
The cross arm must be mounted on a stable mast, using guy wires as needed to prevent the sensors from vibrating in high winds.
Highlighted Features
Wind Sensor Set includes Onset's research-grade plug-and-play Wind Speed Smart Sensor and the Wind Direction Smart Sensor
Provides average wind speed, highest 3-second wind gust, and average wind direction for the measurement interval
Durable sensors
3. Merencanakan irigasi (pengairan) berdasarkan kebutuhan tanaman
Mengunakan kelembaban tanah, evapotranspirasi, dan data hujan untuk mengairi perkebunan jika memang dibutuhkan dan menentukan jumlah air yang dibutuhkan dan pola kelembaban pada tanah (Soil Moisture).
EC5 Soil Moisture Smart Sensor
Mengukur volume tanah 0,3 liter
Volume pengukuran yang lebih kecil untuk digunakan dalam wadah atau pengukuran pada berbagai kedalaman
Sirkuit frekuensi tinggi (70 MHz) memberikan akurasi yang baik bahkan di tanah dengan salinitas tinggi dan berpasir.
Kompatibel dengan Onset yang berdiri sendiri dan stasiun cuaca berbasis web
4. Memperbaiki perencanaan panen
Mengamati data pemantauan iklim mikro untuk menentukan lokasi tanaman yang optimal, dan rencanakan tanggal panen yang lebih akurat.
Mengukur dan merekam data aliran air (Water Flow), ketinggian air (Water Level) dari jarak jauh dengan mudah pada saluran dan aliran irigasi .
5. Memantau ketinggian air pada sumur dan saluran irigasi (bendungan/pintu air)
Memantau ketinggian air dengan HOBO MicroRX Water Level
Pantau ketinggian Air Secara Online Monitoring Dengan HOBO Micro-RX 2104
Mitigasi Air Banjir
Menyediakan sistem peringatan untuk situasi banjir potensial dari peristiwa badai dan ketinggian air yang tinggi.
Pemantauan Air Tanah
Monitor level dan kualitas air tanah di lubang bor, tangki, dan sumur untuk memahami dan mengamati kondisi kekeringan potensial atau kontaminasi.
Studi Hidrologi
Monitor sistem air permukaan dan akuifer untuk mendukung kualitas air dan studi lingkungan.
6. Mengoptimalkan biaya
Memantau kondisi kritis sehingga Anda dapat memprioritaskan kapan dan di mana akan mengerahkan pekerja, menggunakan peralatan, dan pengairan.
7. Melindungi tanaman Anda dari dampak iklim yang buruk
Melindungi tanaman dari embun beku dan panas berlebih dengan peringatan real time melalui SMS dan Email yang memungkinkan pengambilan keputusan cepat untuk mencegah kerugian panen.
8. Mendapatkan laporan Data Cuaca yang sangat akurat untuk mematuhi aturan pemerintah
Pengolahan data yang akurat untuk memenuhi  regulasi serta tanggung jawab anda terhadap pemerintah Kementrian Kehutanan dan Lingkungan Hidup  untuk menjaga kelestarian ekosistem lingkunan dan mempermudah mengurus klaim asuransi jika terjadi hal yang tidak di inginkan (gagal panen, bencana alam dll).
Kami juga menyediakan jasa audit stuktur bangunan. Dan kami juga menjual berbagai alat-alat dan pengujian, alat-alat monitoring seperti HOBO Data Logger ( water, outdoor, indoor & HVAC, Vaccines & Cold Chain ) , Alat Uji Pohon, Alat Monitoring Cuaca, Alat Uji Kekerasan dan lain-lain.
Informasi pemesanan silahkan menghubungi nomor telepon : 021 8690 6777, Whatsapp : 0812 1248 2471 dan email marketing.time@taharica.com | alfin@taharica.com
bingung dengan cara pemesanan di atas ? Anda ingin tempat yang lebih mudah ?
Anda bisa mengunjungi Tokopedia / BukaLapak kami dan dapatkan berbagai diskon dan penawaran menarik dari kami. klik link di bawah ini
ATTENTION…!!!
Dilengkapi dengan Engineering yang professional.