Automatic Weather Station (AWS) HOBO RX3000 Data Logger sudah banyak digunakan dalam pengamatan iklim dan cuaca di perkebunan kelapa sawit. AWS HOBO RX3000 Data Logger memiliki beberapa keunggulan dibandingkan stasiun pengamatan iklim dan cuaca yang konvensional, salah satunya adalah kemampuan perekaman data secara otomatis dan kontinu. Namun demikian, AWS HOBO RX3000 data memberikan informasi lama penyinaran (jam/hari). Sebenarnya lama penyinaran (jam/hari) dapat ditentukan dari data irradiasi surya/Solar radiation (W/m2) menggunakan beberapa persamaan.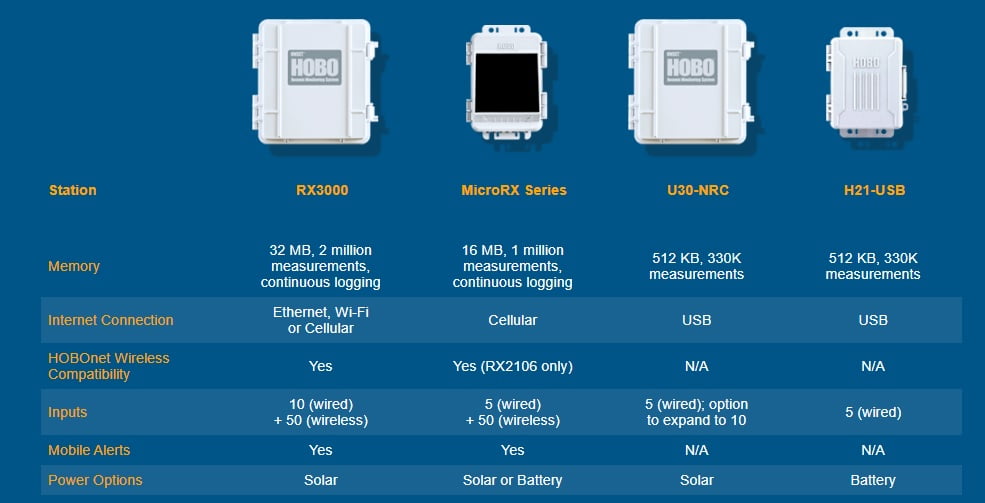 Iklim dan cuaca pada umumnya memiliki beberapa unsur, yaitu radiasi matahari (Solar Radiation), suhu udara (Temperature), Curah hujan (Rain gauge), kelembaban udara (Relative Humidity) evapotranspirasi, kecepatan dan arah angin (Wind Speed and Wind Direction), tekanan udara (Barometric Pressure), dan Kelembaban Tanah (Soil Moisture). Diantara unsur-unsur tersebut, radiasi matahari yang tersusun atas dua variabel; irradiasi (irradiasi) dan lama penyinaran, merupakan unsur cuaca dan iklim yang penting dalam perkebunan kelapa sawit setelah curah hujan (Uexkull and Fairhust, 1991).
Tanaman kelapa sawit merupakan tanaman heliofit yaitu tanaman yang menyukai cahaya dan kurang optimal jika terkena naungan. Lama penyinaran yang diperlukan oleh tanaman kelapa sawit adalah 5 – 7 jam/hari atau 1.800 – 2.200 jam/tahun (Verheye, 2010). Sementara itu, irradiasi optimal yang diperlukan dalam satu hari adalah lebih besar atau sama dengan 16
MJ/m2/hari (Hartley,1988).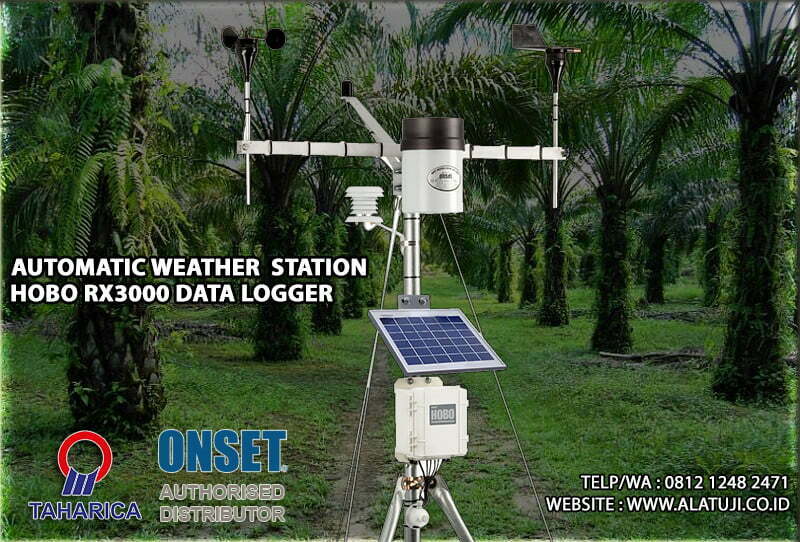 HOBO RX3000 Remote Monitoring Station Data Logger
HOBO RX3000, AWS perekam/pencatat data jarak jauh paling fleksibel , memberikan akses instan data cuaca lingkungan yang spesifik lokasi di mana saja, kapan saja melalui internet. Stasiun ini menggabungkan fleksibilitas dan kualitas sensor dari sistem yang lebih mahal, layar LCD onboard, dan kenyamanan pengoperasian plug-and-play.
Highlighted Features
Dukungan fleksibel untuk berbagai sensor
Layar LCD untuk instalasi di lapangan dengan mudah
Akses data berbasis cloud melalui HOBOlink

Dapatkan akses web 24/7 ke data Anda melalui browser web
Verifikasi status sistem RX3000 dari jarak jauh
Atur dan kelola pemberitahuan alarm melalui web
Jadwalkan pengiriman data secara otomatis

Pemberitahuan alarm melalui teks, email
Pelindung tahan cuaca buruk
Opsi seluler, Wi-Fi, dan Ethernet tersedia
Dapat dikonfigurasi dari perangkat seluler Anda
Input Analog Opsional, Relay, dan Modul Sensor Level Air
Pemantauan level air dan aliran air jarak jauh dengan modul level air Onset (RXMOD-W1)
Data logger RX3000 mendukung pengukuran berikut: 4-20mA, Arus AC, Tegangan AC, Kecepatan Udara, Jam Amp (Ah), Amps (A), Tekanan Barometrik, Karbon Dioksida, Aliran Udara Terkompresi, Arus DC, Tegangan DC, Embun Titik, Tekanan Diferensial, Peristiwa, Tekanan Gauge, Kilowatt Hours (kWh), Kilowatts (kW), Wet Wet, Intensitas Cahaya, Faktor Daya (PF), Input Pulsa, Curah Hujan, Kelembaban Relatif, Kelembaban Tanah, Suhu, Volt-Amp Reaktif , Volt-Amp, jam reaktif, Volt-Amps (VA), Volts (V), Aliran Air, Level Air, Watt Hours (Wh), Watts (W) dan Wind
Operating Range
-40° to 60°C (-40° to 140°F); no remote communications for battery voltage less than 3.9 V DC
Smart Sensor Connectors
10
Smart Sensor Network Cable Length
100 m (328 ft) maximum
Smart Sensor Data Channels
Maximum of 15 (some smart sensors use more than one data channel; see sensor manual for details)
Module Slots
2
Logging Rate
1 second (RX3001 and RX3002) or 1 minute (RX3003 and RX3004) to 18 hours
Time Accuracy
±8 seconds per month in 0° to 40°C (32°F to 104°F) range;
±30 seconds per month in -40° to 60°C (-40° to 140°F) range
Battery Type/Power Source
4 Volt, 10 AHr, rechargeable sealed lead-acid; external power required using one of these options: AC power adapter (AC-U30), solar panel (SOLAR-xW), or external power source 5 V DC to 17 V DC with external DC power cable (CABLE-RX-PWR)
Rechargeable Battery
Service Life
Typical 3–5 years when operated in the temperature range -20° to 40°C (-4°F to 104°F); operation outside this range will reduce the battery service life
Memory
32 MB, 2 million measurements, continuous logging
Alarm Notification Latency
Logging interval plus 2–4 minutes, typical
Enclosure Access
Hinged door secured by two latches with eyelets for use with user-supplied padlocks
LCD
LCD is visible from 0° to 50°C (32° to 122°F); the LCD may react slowly or go blank in temperatures outside this range
Materials
Outer enclosure: Polycarbonate/PBT blend with stainless steel hinge pins and brass inserts; Inner enclosure: Polycarbonate; Gaskets: Silicone rubber; Cable channel: EPDM rubber; Cable opening cover: Aluminum with ABS plastic thumb screws; U-Bolts: Steel with zinc dichromate finish
Size
18.6 x 18.1 x 11.8 cm (7.3 x 7.1 x 4.7 in.); see diagrams on next page
Weight
2.2 kg (4.85 lb)
Mounting
3.8 cm (1.5 inch) mast or wall mount
Environmental Rating
Weatherproof enclosure, NEMA 4X (requires proper installation of cable channel system)
The CE Marking identifies this product as complying with all relevant directives in the European Union (EU)
RX3002: FCC ID R68XPICOW, IC ID 3867A-XPICOW
RX3003: FCC ID QIPEHS6, IC ID 7830A-EHS6; approved for use in Taiwan and Japan
RX3004: FCC ID QIPPLS62-W, IC ID:7830A-PLS62W
Wireless Radio
RX3003:
GSM/GPRS/EDGE: Quad band 850/900/1800/1900 MHz, UMTS/HSPA+: Five band 800/850/900/1900/2100 MHz
RX3004:
GSM/GPRS/EDGE: Quad band 850/900/1800/1900 MHz
UMTS/HSPA+: Seven band 800/850/900/1800/1900/2100 MHz
LTE: Twelve Band 700/800/850/900/1800/1900/2100/2600 MHz
Antenna
RX3003: Penta band
RX3004: 4G LTE