Kemampuan air untuk membersihkan pencemaran secara alamiah banyak tergantung pada cukup tidaknya kadar oksigen terlarut. Oksigen terlarut (DO) merupakan gas yang tercampur dengan air sedemikian rupa sehingga bagian yang terkecil berukuran molekuler. Adanya oksigen terlarut dalam air berasal dari udara dan dari proses fotosintesa tumbuh tumbuhan air kelarutan oksigen dalam air, tergantung pada temperatur, tekanan atmosfer, dan kandungan mineral dalam air. Kadar oksigen terlarut di perairan dipengaruhi oleh proses aerasi, fotosintesis, respirasi, dan oksidasi.
Sumber : https://media.neliti.com/media/publications/190201-ID-analisis-sebaran-oksigen-terlarut-salura.pdf
HOBO Dissolved Oxygen Data Logger U26-001
Ukur konsentrasi oksigen di danau, sungai, muara, dan perairan pesisir dengan HOBO U26 Dissolved Oxygen Data Logger. Data logger yang terjangkau dan tepat ini direkomendasikan untuk proyek penelitian biologi dan hidrologi akuatik. HOBO U26 menggunakan teknologi sensor DO optik RDO® Basic (Rugged Dissolved Oxygen) dan mudah dirawat.
Includes:
U26-001 data logger
DO sensor cap
Protective Guard
Calibration Boot with sponge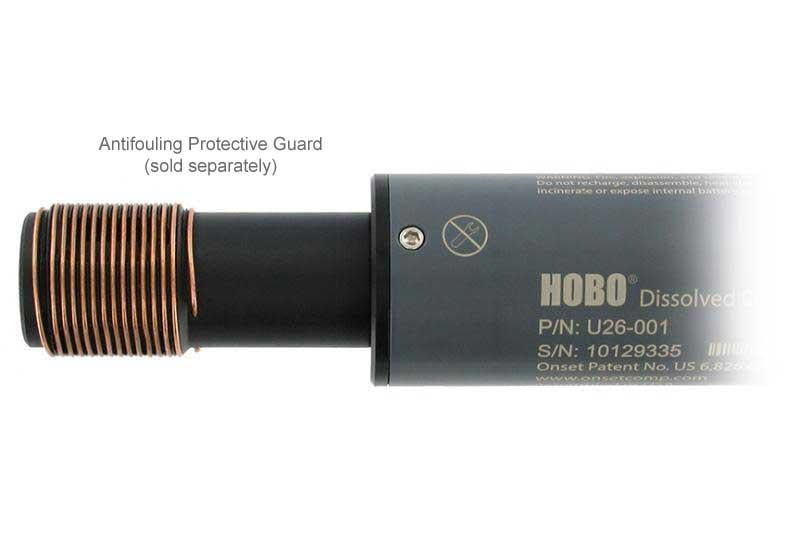 Logger Dissolved Oxygen HOBO U26 adalah bagian dari evaluasi multi-tahun logger dan sensor DO oleh Alliance for Coastal Technologies (ACT), yang hasilnya dipublikasikan di sini. Laporan tidak bias ini menjelaskan bagaimana kinerja HOBO U26 di laboratorium dan kondisi lapangan.
Features
Pemantauan oksigen terlarut (DO) berkinerja tinggi yang terjangkau dengan akurasi 0,2 mg / L
Teknologi sensor DO optik untuk kalibrasi yang tahan lama dengan sedikit perawatan
Perangkat lunak Dissolved Oxygen Assistant dari HOBOware Pro mengoreksi penyimpangan pengukuran dari pengotoran; memberikan konsentrasi DO yang disesuaikan dengan salinitas dan persen saturasi
Antarmuka USB optik untuk pembongkaran data berkecepatan tinggi dan andal
Tutup sensor DO yang mudah diganti dapat bertahan selama enam bulan
Specifications
Dissolved Oxygen
Sensor Type: Optical
Measurement Range: 0 to 30 mg/L
Calibrated Range: 0 to 20 mg/L; 0 to 35°C (32 to 95°F)
Accuracy: ± 0.2 mg/L up to 8 mg/L; ± 0.5 mg/L from 8 to 20 mg/L
Resolution: 0.02 mg/L
Response Time: To 90% in less than 2 minutes
DO Sensor Cap Life: 6 months, cap expires 7 months after initialization

Temperature
Temperature Measurement/Operating Range: -5 to 40°C (23 to 104°F); non-Freezing
Temperature Accuracy: 0.2°C (0.36°F)
Temperature Resolution: 0.02°C (0.04°F)
Response Time: To 90% in less than 30 minutes

Logger
Memory: 21,700 sets of DO and temperature measurements (64 KB total memory)
Logging Rate: 1 minute to 18 hours
Time Accuracy: ±1 minute per month at 0 to 50°C (32 to 122°F)
Battery: 3.6 V lithium battery; factory replaceable
Battery Life: 3 years (at 5 minute logging)
Download Type: Optical
Depth Rating: 100 m (328 ft)
Buoyancy: Salt water: 13 g (0.46 oz) negative | Fresh water: 20 g (0.71 oz) negative
Wetted Materials: Black Delrin®, PVC, EPDM o-rings, silicone bronze screws; rated for saltwater use
Size: 39.6 mm diameter x 266.7 mm length (1.56 x 10.5 inches)
Weight: 272.4 g (9.61 oz)
Environmental Rating: IP68
Link Pembelian : https://www.tokopedia.com/raya-stock/dissolved-oxygen-data-logger-hobo-u26-001
Pembaca Data – HOBO® Waterproof Shuttle U-DTW-1
HOBO Waterproof Shuttle menyediakan pembacaan yang nyaman dan peluncuran ulang data logger HOBO bawah air dan luar ruangan dengan antarmuka USB Optik, dan tahan air hingga 20m (66ft). HOBO Waterproof Shuttle juga dapat digunakan sebagai stasiun pangkalan.
Features
Komunikasi ini beroperasi di lingkungan dalam ruangan, luar ruangan dan air.
Specifications
Compatibility:
All HOBO U-Series loggers with optic USB.
Not compatible with the HOBO U-Shuttle (U-DT-1)
Requirements: HOBOware Pro 2.2 or greater
Compatible logger and matching coupler:
For UA Pendant (Part # COUPLER2-A)
For U20 Water Level (Part # COUPLER2-B)
For U22 Water Temp Pro v2 (Part # COUPLER2-C)
For UTBI TidbiT v2 (Part # COUPLER2-D)
For U23 HOBO Pro v2 (Part # COUPLER2-E)
Data capacity: 63 logger readouts of up to 64K each
Operating temperature: 0° to 50°C (32° to 122°F)
Storage temperature: -20° to 50°C (-4° to 122°F)
Wetted materials: Polycarbonate case, EPDM o-rings and retaining loop
Waterproof: to 20 m (66 feet)
Time accuracy: ± 1 minute per month at 25°C (77°F)
Logger-to-shuttle transfer speed: Reads out one full 64K logger in about 30 seconds
Shuttle-to-host transfer speed: Full shuttle offload (4 MB) to host computer in 10 to 20 minutes, depending on computer
Batteries: 2 AA alkaline batteries required for remote operation
Battery life: One year or at least 50 complete memory fills, typical use
Weight: 150 g (4 oz)
Dimensions: 15.2 x 4.8 cm (6.0 x 1.9 inches)
Link Pembelian : https://www.tokopedia.com/raya-stock/hobo-waterproof-shuttle-u-dtw-1-for-water-level-data-logger-u-20
HOBOware Pro CD or USB Drive Software – BHW-Pro-CD
Kuat, Intuitif, Satu-satunya: Manfaatkan data Anda secara produktif dengan perangkat lunak HOBOware Pro . Plot atau ekspor data ke spreadsheet untuk melakukan analisis yang diperlukan untuk proyek Anda. HOBOware® Pro mudah diatur dan antarmuka tunjuk-dan-kliknya yang intuitif membuatnya mudah dijalankan. Aplikasi data logger ini kompatibel dengan semua data logger HOBO dan node data nirkabel.
Features
Perangkat lunak yang kuat untuk manajemen logger, grafik data, analisis data, dan ekspor data
Asisten Data dan Plug-in Alarm Real-Time menyediakan analisis data lanjutan, pemantauan, dan pemberitahuan
Kompatibel dengan Mac dan Windows ( lihat persyaratan sistem )
Dukungan Multi-Bahasa (Inggris / Spanyol / Prancis / Jerman / Polandia / Portugis / Jepang / Korea / Mandarin Sederhana / Mandarin Tradisional)
Specifications
System Requirements:
PC: Windows 8 and 8.1 (Core, Pro), Windows 7 (Pro, Ultimate and Home Premium), Windows 10 (Home, Pro). HOBOware is not certified to run on Enterprise versions of any version of Windows and is not certified to run on Server versions of Windows.
Mac: macOS Version 10.14, 10.15, 11
A Java Runtime Environment is now included with HOBOware so no separate installation of Java is needed to run HOBOware.
One of the following Internet browsers: The most recent version of Safari, Microsoft Internet Explorer, Microsoft Edge, Firefox or Google Chrome.
Minimum screen resolution of 1024×768. Recommended screen resolution of 1280×800 or greater particularly for non-English users.
256+ colors
Processor Speed, Memory and Disk Space
High End
Mid Range
Low End
Lowest End
CPU
2.9 GHz
dual core
2.0 GHz
dual core
1.8 GHz
single core
1.8 GHz
single core
RAM
3 GB
2 GB
1.5 GB
1 GB
Disk Space
100 GB+
50 GB+
20 GB+
300 MB
User Model
4
3
2
1
The User Model row suggests some guidelines for using the Processor Speed and Memory table:
User Model 1 – Using HOBO Data loggers only, no data nodes – traditional desktop user
User Model 2 – Using HOBO Data loggers and up to 5 data nodes, 20 sensors
User Model 3 – Using HOBO Data loggers and up to 50 data nodes, 100 sensors
User Model 4 – Using HOBO Data loggers and up to 100 data nodes, 200 sensors
* Disk Space – Defining the disk space requirements for HOBOware depends on the proposed use. The table above describes the disk space needed for a traditional desktop user, allowing for installation of the program and storage of data files. For users of HOBO data nodes, the space requirements depend on a variety of factors, including the number of nodes, the number of sensors, the frequency of data sampling, the longevity of deployments, and other factors.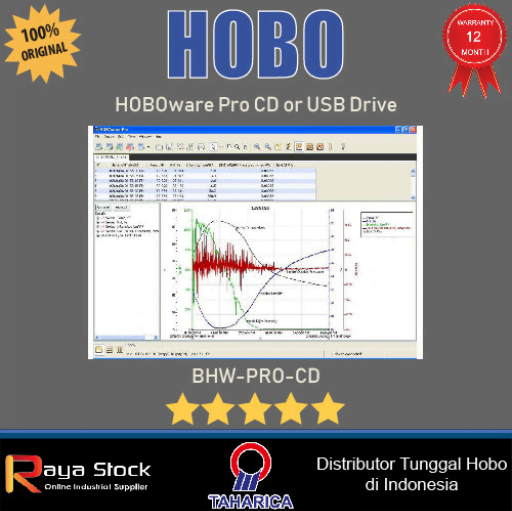 Link Pembelian : https://www.tokopedia.com/raya-stock/hoboware-pro-v-3-x-for-pc-mac-bhw-pro-cd