Makanan pokok Rhode Island sejak 1914, Peternakan Susu Wright terkenal menyediakan produk susu dan roti segar. Khawatir tentang unit pendingin yang menua dan potensi kebutuhan untuk memperbaiki atau menggantinya, tim manajemen di Wright's sedang mencari cara mudah untuk melacak suhu di pendingin dan freezer mereka untuk memastikan kualitas produk makanan mereka. Paul Dulude, direktur operasi toko roti, juga prihatin tentang pemadaman listrik yang berdampak buruk pada pengaturan jam pencairan, yang menyebabkan siklus pencairan yang terjadi selama waktu produksi sibuk. Dulude menginginkan sistem pemantauan yang akan mengingatkannya akan perlunya menyesuaikan pengaturan jam pencairan pada waktu yang tepat untuk memastikan bahwa siklus pencairan hanya terjadi selama waktu produksi nonpeak.
Tim manajemen Wright memilih sistem pemantauan jarak jauh HOBOnet pemenang penghargaan dan hemat biaya untuk melacak suhu di pabrik roti dan unit pendingin produksi susu, serta pendingin ritel dan kotak pajangannya. HOBOnet dirancang untuk bekerja dengan stasiun HOBO RX yang fleksibel sebagai komponen inti sistem, dan tim memutuskan untuk menggunakan stasiun seluler HOBO MicroRX. Stasiun itu didirikan di bagian utama fasilitas, dengan sensor suhu nirkabel dipasang di lokasi-lokasi utama. Dengan kemampuan sensor untuk berkomunikasi secara nirkabel hingga 1.500 kaki dan melalui dinding unit penyimpanan dingin, sistem HOBOnet memberi tim di Peternakan Susu Wright cara mudah untuk memantau suhu, tanpa modifikasi peralatan yang mahal atau memakan waktu.
HOBO MicroRX Station yang ringkas dan kokoh adalah solusi seluler berbiaya rendah yang mudah digunakan untuk pemantauan lapangan jangka panjang yang andal. Tersedia dua opsi sumber daya: panel surya untuk penggunaan yang lebih lama, dan baterai yang dapat diganti pengguna untuk pemasangan yang fleksibel di lokasi yang tertutup atau terlindungi. Stasiun tersebut menyertakan masukan untuk hingga lima sensor plug-and-play tingkat penelitian Onset, dan dapat dipesan dengan masukan sensor ketinggian air tambahan dengan konversi aliran terintegrasi. Alarm sisi stasiun yang dapat dikonfigurasi memicu pemberitahuan langsung tentang kondisi kritis, dan platform HOBOlink berbasis cloud Onset memudahkan untuk melihat, mengakses, dan berbagi data.
Fitur RX2100
Ukuran kompak untuk penerapan yang mudah
Enklosur IP66 / NEMA 4X yang kokoh dan tahan cuaca
Dua opsi daya:

Panel surya 1.7W terintegrasi dengan paket baterai yang dapat diisi ulang

Panel surya eksternal 5W dan 15W dapat ditambahkan ke MicroRX Station (RX2102), MicroRX Water Level Station (RX2104) atau MicroRX Station untuk HOBOnet (RX2106)

Baterai lithium AA yang dapat diganti pengguna

Input untuk lima sensor plug-and-play
Opsi untuk sensor nirkabel menggunakan HOBOnet (RX2106 saja)
Input sensor ketinggian air opsional termasuk dalam Stasiun Ketinggian Air MicroRX, bertenaga baterai (RX2103) dan Stasiun Ketinggian Air MicroRX, bertenaga surya (RX2104)
LCD internal memastikan pengaturan dan pengoperasian yang benar
Tab pemasangan terintegrasi untuk digunakan dengan sekrup, pengikat ritsleting, atau baut-U
Alarm sisi stasiun, termasuk aliran air dan akumulasi curah hujan
Tarif koneksi hingga 10 menit melalui paket data seluler 4G
Pemantauan berbasis cloud dan akses data melalui HOBOlink
HOBO MicroRX Station secara otomatis mengunggah data sensor ke HOBOlink, platform berbasis cloud yang inovatif di Onset. Dengan HOBOlink, pengguna dapat: melihat tren suhu untuk semua unit pendingin dan freezer dari mana saja, kapan saja, melalui internet; menjadwalkan pengiriman data secara otomatis; dan mengatur serta mengelola pemberitahuan alarm yang secara otomatis dikirim melalui teks atau email jika kondisi melebihi ambang batas yang ditetapkan pengguna.
Pengaturan nirkabel yang nyaman dan unduh melalui Bluetooth Low Energy (BLE)
Memori besar menyimpan 96.000 pengukuran
Tahan air hingga 1500 meter (5000 kaki)
Fitur deteksi air mencatat saat logger masuk dan keluar dari air
Boot tahan air melindungi logger selama penyebaran
Alarm LED memberi tahu Anda saat suhu melebihi ambang batas yang ditetapkan
Fitur perpanjangan masa pakai baterai
Bekerja dengan aplikasi HOBOconnect gratis dari Onset
Akurasi ± 0,2 ° C (± 0,36 ° F)
Aplikasi HOBOconnect gratis dari Onset membuatnya cepat dan mudah untuk mengkonfigurasi pencatat data HOBO MX Series yang kompatibel (bagan di bawah) dan mengelola data yang dikumpulkan. Cukup unduh aplikasinya dari Apple App Store atau Google Play ke perangkat seluler Anda, atau unduh dari situs web kami ke komputer Windows Anda. Dengan HOBOconnect, Anda dapat melihat data dalam grafik, memeriksa status operasional logger, berbagi file data dan gambar grafik untuk dianalisis di Excel, Numbers, dan aplikasi lain, serta menyimpan data di cloud. HOBOconnect juga memungkinkan Anda dengan cepat mengatur pemberitahuan alarm bersuara, sehingga Anda segera diberi tahu jika ada masalah.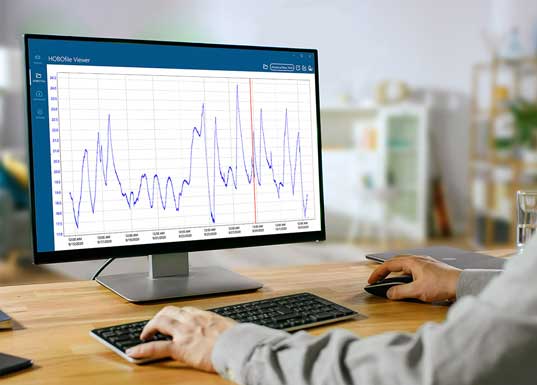 Berkomunikasi dengan pencatat data HOBO MX menggunakan teknologi Bluetooth (LE)
Tidak perlu koneksi internet
Atur nama pencatat data, kata sandi, tingkat pencatatan, ambang batas alarm, waktu mulai dan berhenti
Mengunggah data secara otomatis ke perangkat lunak HOBOlink berbasis cloud Onset untuk menyimpan dan menggabungkan file data
Konfigurasikan dan hapus alarm yang dapat didengar
Halaman pencatat data
Unduh dan lihat data dengan cepat
Ekspor dan bagikan data sebagai file CSV, TXT, XLSX, atau HOBO
Platform Compatibility
HOBOconnect
iOS, Android & Windows
MX1101 – HOBO Bluetooth Temp/RH Data Logger
MX1102A – HOBO Bluetooth CO2/Temp/RH Data Logger
MX1104/5 – HOBO Bluetooth Multi-Channel Data Loggers
MX2001 – HOBO Bluetooth Water Level Data Logger
MX100 – HOBO Bluetooth Temperature Data Logger
MX2300 Series – HOBO Bluetooth Temp and Temp/RH Loggers
MX2200 Series – HOBO Bluetooth Temperature Data Loggers
MX2501 – HOBO Bluetooth pH and Water Temp Data Logger
MX Gateway – Remote Access to Your Data and Cloud Storage
Multi-Language Support – Traditional and Simplified Chinese, Korean and Japanese only
Download the free HOBOconnect app for your iOS or Android mobile device or Windows computer today. For documentation on the app, click here
Minimum System Requirements
iOS 11, 12 and 13
Android 7, 8, 9 and 10
Windows 10
Bluetooth 4.X and up
Tak lama setelah menerapkan sistem HOBOnet, terbukti nilainya ketika Dulude menerima pesan teks otomatis yang memperingatkannya akan suhu di luar kisaran di salah satu unit penyimpanan dinginnya, mengonfirmasi bahwa unit tersebut harus diganti. Dan sekarang, melihat grafik suhu sepanjang hari membantu tim manajemen memastikan bahwa siklus defrost di unit pendingin hanya terjadi selama jam produksi di luar jam sibuk, sehingga suhu yang lebih konsisten dapat dipertahankan.