Dengan misi untuk melestarikan dan memulihkan ekosistem air tawar, The Freshwater Trust bekerja untuk mengembalikan habitat dan aliran sungai di seluruh Oregon, menggunakan solusi yang holistik, inovatif, dan dapat diulang yang mengatasi penyebab utama penurunan kesehatan air tawar.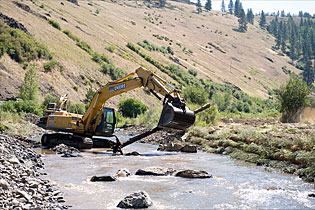 Latar Belakang Proyek
The Freshwater Trust dan mitra-mitranya berusaha mengembalikan habitat untuk kepentingan summer steelhead dan spring Chinook yang terdaftar secara federal di Rudio Creek, anak sungai yang memiliki signifikansi ekologis dari North Fork John Day River di Central Oregon. Proyek ini unik karena Sungai John Day adalah sungai bebas aliran kedua terpanjang di Amerika Serikat.
Selama awal dan pertengahan abad ke-20, Rudio Creek dibujurkan dan dicanal untuk menciptakan padang rumput ternak. Pemanjangan saluran ini, bersama dengan pengembangan pertanian di dataran banjir sepanjang pertengahan abad ke-20, menyebabkan hilangnya kompleks bendungan beaver dan pepohonan riparian (sepanjang sungai).
Hasilnya adalah sistem energi tinggi dengan keragaman habitat yang berkurang dan penyimpanan air dingin yang berkurang, serta suhu sungai hingga 26ºC  pada akhir musim panas, menciptakan hambatan signifikan terhadap kelangsungan hidup dan reproduksi ikan.
Tujuan Proyek
Tujuan utama dari Proyek Restorasi Habitat Rudio Creek Ranch adalah untuk meningkatkan habitat summer steelhead dan spring Chinook. Proyek ini bertujuan mencapai tujuan ini dengan mengurangi suhu sungai, meningkatkan habitat kolam untuk ikan asli, menambah kompleksitas habitat, menciptakan konektivitas dataran banjir, dan menambahkan vegetasi riparian.
Tindakan proyek adalah mengembalikan Rudio Creek ke penyusunan saluran sejarahnya, membangun struktur habitat kayu besar, dan mengembalikan vegetasi riparian. Situs yang dipulihkan akan meniru kondisi sebelum gangguan sebanyak mungkin dan akan menghasilkan kondisi habitat yang akan mendukung populasi ikan yang lebih sehat dan populasi beaver yang lebih besar.
Pengaplikasian HOBO® Temperature Logger
Akibat pemanjangan saluran, tiga mata air alami di sisi barat lembah sekarang hanya terhubung secara pasif (melalui migrasi air tanah) ke Rudio Creek, memberikan pengaruh minimal pada suhu sungai. Proyek ini akan menciptakan koneksi aktif antara mata air dan sungai, yang berpotensi memberikan tiga sumber air dingin baru sambil juga menyumbangkan aliran sungai tambahan.
The Freshwater Trust akan menempatkan HOBO Water Temp Pro Data Logger di atas dan di bawah setiap pertemuan mata air dengan Rudio Creek, membantu mengumpulkan data serta monitoring suhu sungai sebelum dan setelah proyek. Data Logger akan ditempatkan dalam area proyek selama dua mil dan akan dilampirkan ke besi ulir yang tertanam dalam sungai. Setelah dipasang, HOBO Waterproof Shuttle akan digunakan untuk dengan mudah mengunduh semua data.
Data akan dikumpulkan dengan interval 30 menit dan diunduh sekitar empat kali setahun. Aplikasi HOBOware® akan digunakan sebagai perangkat lunak impor utama, sementara Excel akan digunakan untuk secara bersamaan menggambar data aliran sungai dan suhu. Data ini akan digunakan untuk mengevaluasi efektivitas proyek dalam menghubungkan mata air secara langsung ke sungai dan menurunkan suhunya.
Data suhu yang dikumpulkan dari data loger ini akan digunakan untuk membandingkan suhu termal saat ini dari sungai kanal dan suhu termal pasca-implementasi. Analisis ini akan memungkinkan The Freshwater Trust untuk mengevaluasi sejauh mana menghubungkan mata air ke sungai efektif dalam menurunkan suhu sungai. HOBO Data Logger dipilih untuk proyek ini karena catatan kinerja mereka yang terbukti memberikan data yang berkualitas tinggi dan dapat diandalkan, serta karena produk ini telah ada selama beberapa waktu.