Sebuah restoran Italia terkenal di New England baru-baru ini menambah kapasitas penyimpanan dinginnya menjadi total delapan unit walk-in yang besar, pemiliknya menyadari bahwa ia memerlukan cara yang lebih efisien untuk mematuhi peraturan negara bagian yang mewajibkan perekaman data untuk membuktikan kepatuhannya. Pedoman Badan Pengawas Obat dan Makanan Amerika Serikat untuk menyimpan makanan peka suhu pada suhu maksimum 40 ° F.
Dia telah mengandalkan pemeriksaan suhu dua kali sehari dari termometer dial built-in, tetapi menyadari bahwa:
pencatatan manual membutuhkan 1.260 jam waktu karyawan per tahun;
satu termometer tidak secara akurat mewakili suhu yang bervariasi di dalam unit; dan
termometer tidak menawarkan catatan perjalanan suhu atau pemadaman listrik yang mungkin terjadi ketika restoran ditutup. Mencari solusi pemantauan suhu yang lebih efisien yang akan mengatasi masalah ini, pemilik restoran menggunakan HOBO Data Logger.
Onset dan pelanggan membahas sejumlah opsi dan akhirnya memilih sistem pemantauan jarak jauh HOBOlink yang hemat biaya. Dengan HOBO MX1104 Temp/RH/Light data logger ditambah 1 probe sensor SD-TEMP-01 yang mendukung perekaman data suhu dengan range -40°C – 100°C.
sistem ini bekerja dengan self describing sensor dan Bluetooth Low Energy yang dapat mentransmisikan melalui dinding unit penyimpanan dingin untuk memberikan data suhu udara dan kelembaban relatif (RH) yang sangat akurat.
HOBO Analog/Temp/RH/Light Data Logger MX1104
Pencatat data multi-saluran HOBO MX1104 mengukur dan mengirimkan data suhu, kelembapan relatif, dan intensitas cahaya secara nirkabel. Ini juga termasuk input analog eksternal untuk memasang berbagai sensor tambahan.
Data Logger nirkabel mandiri ini memungkinkan Anda menggunakan perangkat seluler dan aplikasi HOBOconnect gratis dari Onset untuk mengakses data, kapan pun, dalam jarak 100 kaki melalui teknologi Bluetooth Low Energy (BLE). Anda dapat mengkonfigurasi logger, membaca data, melihat data dalam grafik, memeriksa status operasional logger, mengkonfigurasi pemberitahuan alarm, dan berbagi file data – semuanya tanpa peralatan khusus selain perangkat seluler. Dan jika digunakan dengan MX Gateway baru, Anda dapat mengakses data Anda dari jarak jauh di perangkat lunak HOBOlink® berbasis cloud milik Onset.
Temperature Sensor (MX1104)
Range
-20° to 70°C (-4° to 158°F)
Accuracy
±0.20°C from 0° to 50°C (±0.36°F from 32° to 122°F)
Resolution
0.002°C at 25°C (0.004°F at 77°F)
Drift
<0.1°C (0.18°F) per year
RH Sensor* (MX1104)
Range
0% to 100% at -20° to 70°C (-4° to 158°F); exposure to conditions above 95% may temporarily increase the maximum RH sensor error by an additional 1%
Light Sensor (M1104)
Range
0 to 167,731 lux (15,582 lum/ft2)
Accuracy
±10% typical for direct sunlight (see Light Measurement on page 4 for more details)
Logger
Operating Range
-20° to 70°C (-4° to 158°F)
Radio Power
1 mW (0 dBm)
Transmission Range
Approximately 30.5 m (100 ft) line-of-sight
Wireless Data Standard
Bluetooth Low Energy (Bluetooth Smart)
Logging Rate
1 second to 18 hours
Logging Modes
Fixed interval (normal, statistics) or burst
Memory Modes
Wrap when full or stop when full
Start Modes
Immediate, push button, date & time, or next interval
Stop Modes
When memory full, push button, date & time, or after a set logging period
Restart Mode
Push button
Time Accuracy
±1 minute per month at 25°C (77°F)
Battery Type
Two AAA 1.5 V alkaline batteries, user replaceable
Battery Life
1 year, typical with logging interval of 1 minute and Bluetooth Always On enabled; 2 years, typical with logging interval of 1 minute and Bluetooth Always On disabled; and temperatures between 0° and 50°C (32° and 122°F). Faster logging intervals and statistics sampling intervals, burst logging, remaining connected with the app, excessive downloads, and paging may impact battery life.
Memory
4 MB (1.9 million measurements, maximum)
LCD
LCD is visible from 0° to 50°C (32° to 122°F); the LCD may react slowly or go blank in temperatures outside this range
Size
11.28 x 5.41 x 2.92 cm (4.44 x 2.13 x 1.15 in.)
Environmental Rating
IP54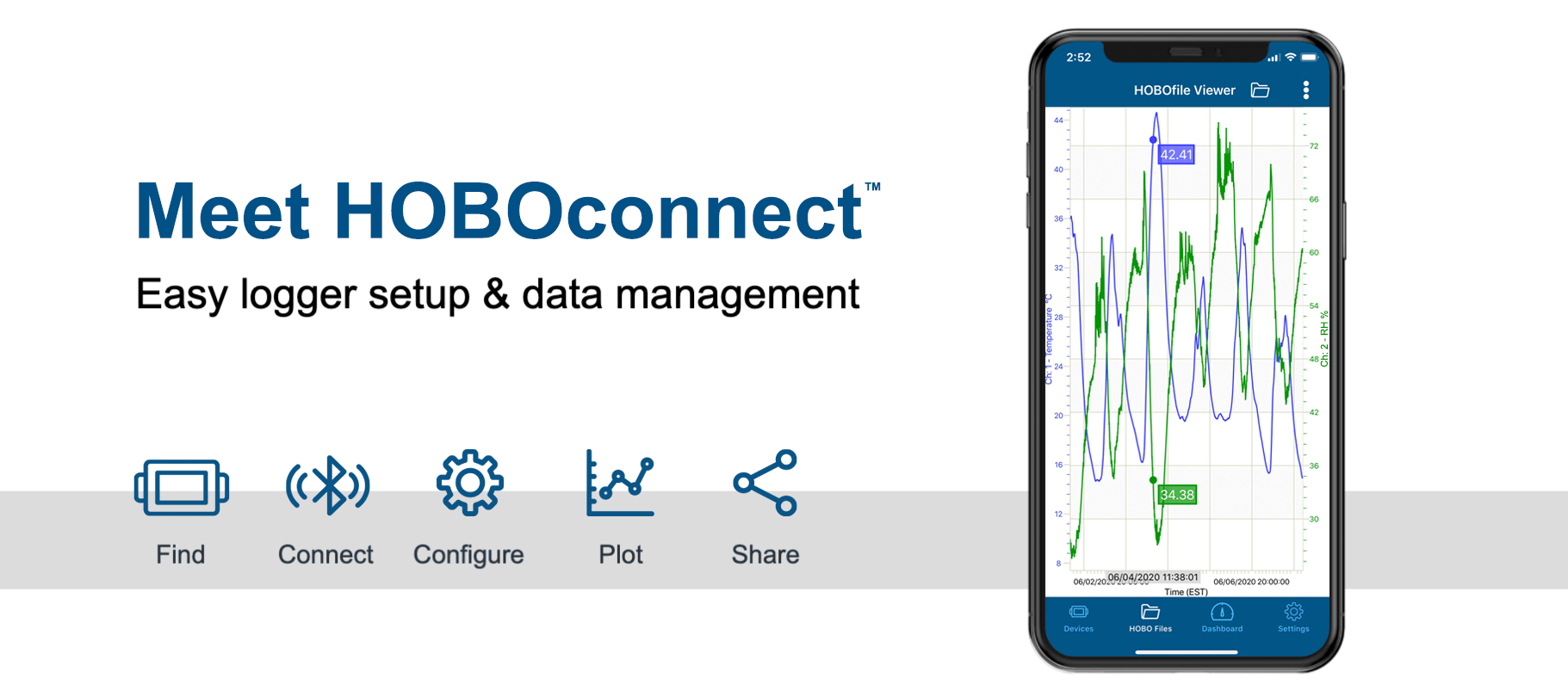 Penggunaan Gateway HOBO MXGTW-1 secara otomatis mentransmisikan data dari Data Logger HOBO MX 1104 Bluetooth Hemat Energi (BLE) Anda, langsung ke cloud!
Sekarang Anda dapat menggunakan perangkat lunak HOBOlink berbasis cloud Onset untuk mengelola data Anda dari jarak jauh, mengatur pemberitahuan alarm, dan membuat dasbor khusus. Menghemat waktu dengan mengurangi beberapa kunjungan rutin ke titik lokasi perekaman data.
Data diakses melalui HOBOlink, platform perangkat lunak berbasis cloud yang inovatif di Onset. Dengan HOBOlink, pengguna dapat: melihat suhu dan pembacaan RH dari mana saja, kapan saja, melalui internet; menjadwalkan pengiriman data secara otomatis; dan mengatur dan mengelola pemberitahuan alarm yang secara otomatis dikirim melalui teks atau email jika kondisi melebihi ambang batas yang ditetapkan pengguna.
Setelah memasang HOBO MX1104 ditambah sensor suhu / RH di masing-masing dari delapan unit penyimpanan dingin dan HOBO MX Gateway, pembacaan suhu lebih dapat diandalkan dan kebutuhan untuk pemeriksaan suhu fisik telah dihilangkan, sehingga karyawan fokus sepenuhnya pada aktivitas yang menghasilkan pendapatan. Dan karena sensor juga mengukur kelembaban relatif, restoran menggunakan data tambahan tersebut untuk memungkinkan keputusan yang lebih tepat tentang pengaturan sistem dan manajemen inventaris yang lebih cerdas, seperti menyimpan item yang sensitif terhadap kelembapan, seperti produk, dalam unit dengan pembacaan RH yang lebih rendah.
Yang terpenting, HOBOlink memberikan ketenangan pikiran kepada pemilik restoran. Dia tidak hanya menyadari adanya kerusakan unit pendingin yang dapat segera diperbaiki, tetapi HOBOlink juga berkontribusi pada keuntungan bisnisnya. Ini terjadi baru-baru ini, ketika restoran Pemilik menerima pemberitahuan alarm teks dari HOBOlink di tengah malam badai, setelah lonjakan listrik mengganggu pengoperasian salah satu walk-in freezer. Karena dia diperingatkan akan masalah ini begitu cepat, dia dapat segera merespon dengan memindahkan daging senilai ribuan dolar ke dalam freezer alternatif yang terhindar dari efek gelombang listrik. Seandainya pemilik tidak menerima pemberitahuan alarm, restoran tersebut akan mengalami kemunduran finansial yang signifikan.