Seorang pemilik gym Virginia mengira dia mengalami skenario mimpi buruk ketika dia mengetahui bahwa 50 atlet berpotensi terpapar partikel Covid-19 oleh salah satu pelatih gym. Tetapi tidak ada satu anggota pun yang tertular virus, berkat tindakan pencegahan keamanan ekstra dan tindakan ventilasi yang dia lakukan.
Velvet Minnick, 44, adalah pemilik dan pelatih kepala di 460 Fitness di Blacksburg, Virginia. Seperti banyak pemilik gym di seluruh negeri, dia terpaksa menutup fasilitas itu pada Maret karena virus corona. Mereka menyewakan peralatan dan mengadakan kelas Zoom, tetapi tidak lama kemudian para anggota kehabisan tenaga.
Saat negara bagian memasuki Fase 2 dari pembukaan kembali pada bulan Juni, Minnick diizinkan untuk mengembalikan atlet ke dalam fasilitasnya. Dia tahu satu anggota, bagaimanapun, yang bisa membantunya mendapatkan orang kembali sambil menjaga mereka tetap aman.
Linsey Marr, 46, adalah profesor teknik sipil dan lingkungan di Virginia Tech dan bergabung dengan 460 Fitness sekitar dua tahun lalu. Dia memiliki keahlian dalam transmisi virus, kualitas udara, dan nanoteknologi melalui udara.

Ketika gym ditutup pada bulan Maret, ada banyak pembicaraan di komunitas CrossFit tentang manfaat kesehatan mental dari berolahraga dan beberapa pemilik melobi agar gym mereka tetap buka. Meskipun tidak berhasil, hal itu membuat mereka disertakan dalam fase awal pembukaan kembali. Dan itu memulai rencana pembukaan kembali gym dan prosedur keselamatan. Minnick berkonsultasi dengan Marr tentang ventilasi serta protokol kebersihan dan jarak yang ketat untuk menjaga para atlet seaman mungkin saat mereka berolahraga.

"Saya tahu virus itu ditularkan terutama melalui udara jadi saya pikir sangat penting untuk memiliki ventilasi yang baik sehingga semua orang tidak dapat menghirupnya," kata Marr kepada CNN.
Minnick membuat stasiun atlet di dekat pintu teluk yang memberi masing-masing ruang 10 kaki. Stasiun ditandai di lantai dengan selotip oranye dan memiliki semua peralatan yang diperlukan berada di dalamnya. Tidak ada bepergian tentang gym atau melakukan latihan pasangan sambil berbagi peralatan.
Tata letak baru gym memungkinkan aliran udara yang tepat.
"Jarak sepuluh kaki selalu menjadi mantra saya," kata Marr, yang lebih dari enam kaki yang direkomendasikan karena orang-orang di gym akan berolahraga dan bernapas dengan berat.
Karena Minnick membangun fasilitas tersebut, dia memiliki dokumen teknik dan HVAC untuk dibagikan dengan Marr.
"Saya melakukan kalkulasi tentang seberapa besar ruangan itu, berapa kecepatan angin di daerah itu dan jika pintunya terbuka, apa ventilasi yang dihasilkan?" Kata Marr.

Dia menemukan bahwa ruangan tersebut memberikan udara yang jauh lebih segar daripada yang dibutuhkan oleh organisasi profesional, American Society of Heating, Refrigerating and Air-Conditioning Engineers, yang memberikan rekomendasi untuk ventilasi. Melihat penelitian dan studi lain, Marr berbicara dengan para ahli tentang tingkat ventilasi yang diperlukan untuk benar-benar mengurangi risiko penularan di dalam ruangan.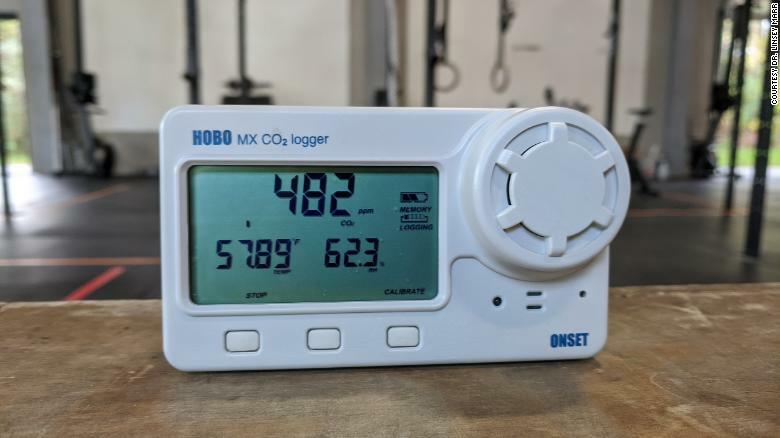 Data Logger HOBO MX1102A CO2 Onset membuatnya lebih nyaman dari sebelumnya untuk mengukur dan mencatat CO2 di gedung dan lingkungan non-kondensasi lainnya. Ini mengukur CO2 dari 0 – 5.000 bagian per juta (ppm) – dan aplikasi HOBOconnect gratis kami memungkinkan Anda mengakses data langsung dari ponsel atau tablet Anda dalam jarak 100 kaki dari logger.
MX1102a juga dilengkapi port USB sehingga dapat digunakan dengan komputer yang menjalankan perangkat lunak grafik & analisis HOBOware.
Spesifikasi MX1102A
Komunikasi nirkabel melalui Teknologi Bluetooth Low Energy (BLE)
Masa pakai baterai enam bulan dengan laju logging CO2 5 menit
Mudah digunakan dan dilepas menggunakan aplikasi HOBOconnect gratis
Ambang batas alarm tinggi & rendah visual dan terdengar
Teknologi sensor CO2 NDIR yang mengkalibrasi sendiri memastikan akurasi optimal dan biaya perawatan yang lebih rendah
Teknologi konektivitas yang dipatenkan
"Kami tidak melihat wabah di atas ambang tertentu," kata Marr. "Dan gym dengan pintu terbuka jauh di atas itu." Gym menggunakan detektor karbon dioksida ini. Marr mengatakan mereka sekarang sebenarnya dapat menutup pintu lebih dari yang mereka kira dan masih memenuhi standar ventilasi menggunakan monitor karbon dioksida untuk melacak tingkat dalam ruangan. "Karbon dioksida adalah napas yang dihembuskan dan merupakan indikator yang baik tentang seberapa banyak virus mungkin menumpuk di udara," kata Marr.
Tergantung pada cuaca dan tingkat kenyamanan para atlet di gym, mereka mungkin membuka pintu lebih atau kurang. Dan atlet selalu memiliki pilihan untuk membawa peralatan mereka ke luar. Pada bulan September, ketika Minnick mengetahui bahwa salah satu pelatihnya tidak enak badan, dia awalnya tidak khawatir. Sementara dia mengira itu hanya alergi, dia segera kehilangan indera penciuman dan perasa, kata Minnick, jadi dia menjalani tes virus corona. Dia memintanya untuk karantina sampai dia menerima hasilnya.
Ketika hasilnya positif, mereka pertama kali menentukan bahwa dia tertular virus di luar gym di lingkungan lain tempat dia berada di dalam ruangan. Kemudian, dia menjalankan tes dalam sistem untuk melihat siapa yang telah dia latih sebelum jatuh sakit.
Minnick secara pribadi menghubungi semua 50 atlet dan check in dengan mereka selama dua minggu. Beberapa orang memutuskan untuk menjalani tes, tetapi tidak satu pun anggota yang mengalami gejala.
"Saya menghubungi semua anggota saya pada hari Senin," kata Minnick. "Dan kemudian … pelacak kontak departemen kesehatan. Mereka bahkan tidak memberi tahu saya tentang paparan langsung sampai hari Rabu. Dengan hal seperti ini, sangat penting untuk segera mengetahuinya."
Bahkan setelah terpapar potensial dan dengan suhu yang turun saat musim dingin mendekat, gym tetap rajin dengan prosedurnya dan atlet terus menyesuaikan. Tidak ada pelukan pasca latihan yang berkeringat dan tidak boleh melakukan tos. Seringkali kelas membahas tentang apakah pintu tetap terbuka atau tertutup. Jika mereka ingin tertutup agar tetap hangat, setiap anggota harus memakai topeng.
"Para anggota rela bekerja ekstra, menjadi dingin, basah, bertahan, hanya agar mereka bisa aman," kata Minnick. "Mereka akan melakukan apa pun untuk mendapatkan manfaat dari olahraga."
Beli Sekarang di Tokopedia Kami :
https://www.tokopedia.com/raya-stock/detector-co2-carbon-dioxide-temp-rh-data-logger-mx1102a-detektor-co2
Sumber :
https://edition.cnn.com/2020/11/19/us/gym-ventilation-covid-trnd/index.html