Masalah
Sebagai manajer fasilitas di distrik sekolah county yang besar di Pennsylvania yang direncanakan untuk memulai semester mendatang, dia tahu tahun ini tidak akan seperti tahun lainnya. Para siswa, guru, dan administrator yang cemas, prihatin dengan pandemi internasional yang sedang berlangsung, akan segera memasuki gedung-gedung distrik.
Sirkulasi udara yang baik di gedung selalu menjadi prioritas utama, tetapi manajer fasilitas menyadari bahwa kualitas udara tahun ini akan menjadi peran yang lebih penting dalam menjaga kesehatan lingkungan. Dia tahu bahwa dia harus proaktif dan menggunakan solusi yang memungkinkan dia untuk berulang kali menguji dan memantau semua sistem HVAC (Heating Ventilation and Air Conditioner) distrik untuk memastikan kinerja maksimum yang diperlukan untuk sirkulasi udara segar yang optimal.
Dia juga tahu bahwa memantau kadar karbon dioksida (CO2) di dalam ruangan akan membantunya memastikan sirkulasi udara segar yang tepat, sekaligus mengurangi udara yang stagnan yang mungkin menahan partikel virus. Awalnya, tugas utama yang ada adalah memverifikasi bahwa semua bangunan distrik memenuhi standar ASHRAE (American Society of Heating, Refrigerating and AirConditioning Engineers) terkini. Mengetahui bahwa pengujian dan pemantauan akan menjadi titik awal.
Solusi

Onset merekomendasikan HOBO MX1102A, kompak, bertenaga baterai, Bluetooth Hemat Energi (BLE) – pencatat data yang diaktifkan untuk memudahkan pengukuran dan pencatatan CO2, suhu, dan kelembaban relatif di gedung. MX1102A memiliki masa pakai baterai enam bulan yang panjang dan LCD besar untuk inspeksi visual. Dan itu bekerja dengan aplikasi HOBOconnect gratis Onset dan ponsel atau tablet sehingga pengguna dapat mengakses data dan mengkonfigurasi pemberitahuan alarm bersuara ketika berada dalam jarak 100 kaki dari logger.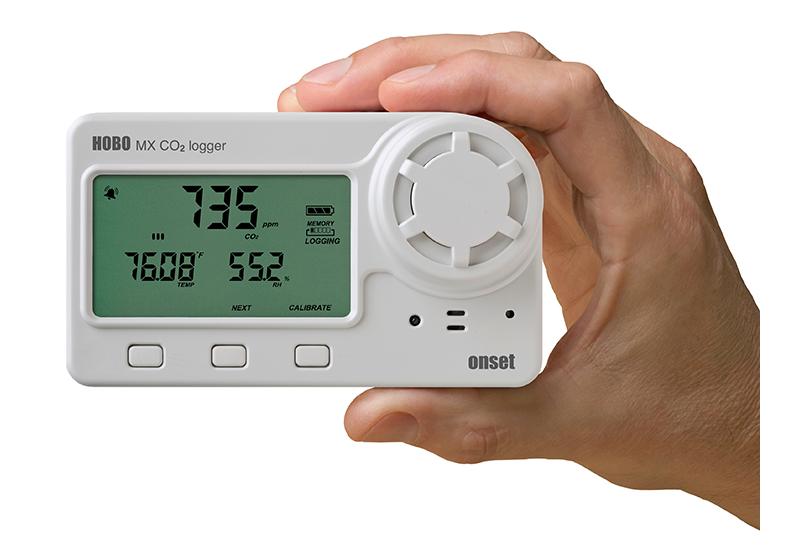 Karena ukurannya yang ringkas, operasi daya baterai, dan teknologi BLE, logger dapat dipasang di lokasi yang aman dan sulit dijangkau, hal ini memungkinkan pekerja fasilitas untuk mengambil (download) data tanpa harus mengganggu ruang kelas atau ruang kerja lain tempat logger ditempatkan.

Dengan tambahan perangkat MX Gateway Onset, data dapat dikumpulkan dari logger HOBO MX1102A dan secara otomatis dikirim melalui komunikasi Ethernet atau WiFi ke HOBOlink, platform berbasis cloud Onset. Dengan HOBOlink, data dapat dilihat di mana saja kapan saja, cukup dengan masuk ke akun pengguna online, yang juga dapat diatur untuk mengirim pemberitahuan alarm melalui teks atau email jika kondisi melebihi ambang batas yang ditetapkan pengguna.
Hasil

Manajer fasilitas telah menginstal banyak logger MX1102A dan MX Gateway di seluruh
gedung distrik sekolah untuk pemantauan CO2, suhu, dan kelembaban relatif. Data yang dikumpulkan dari para penebang memungkinkan pengoptimalan kinerja sistem HVAC gedung untuk memastikan bahwa kualitas udara dalam ruangan kondusif untuk standar kesehatan dan
keselamatan.
Lingkungan yang lebih aman pada akhirnya akan berkontribusi pada kualitas pendidikan siswa dengan memungkinkan mereka untuk terus belajar di ruang kelas langsung. Dengan menggunakan data yang direkam oleh penebang MX1102A, distrik ini juga dapat mengikuti pedoman ASHRAE dengan ketat dan menjamin bahwa sistem ventilasi yang dikontrol permintaan (DCV) sesuai dengan persyaratan setempat. Notifikasi alarm jarak jauh yang diatur dengan logger MX1102A dan MX Gateway akan memberikan identifikasi cepat dari semua kerusakan peralatan, sehingga dapat segera diperbaiki. Membuat sistem HVAC sekolah beroperasi pada kinerja puncak sebelum dimulainya tahun ajaran adalah penting. Memiliki sistem untuk terus memeriksa dan memverifikasi membawa ketenangan pikiran!