Ringkasan: Madeline Wedge, seorang peneliti dari Auburn University School of Forestry and Wildlife Sciences, berbicara kepada Onset tentang proyek penelitian lahan basahnya yang melibatkan penggunaan data logger untuk menentukan apakah penggunaan lahan perkotaan di dekat rawa-rawa garam berdampak pada ikan.
Wawancara dengan Madeline Wedge, Sekolah Ilmu Kehutanan dan Satwa Liar Universitas Auburn
Apa fokus proyek penelitian lahan basah Anda?
Penelitian saya melibatkan studi dampak perubahan penggunaan lahan pada ekosistem lahan basah. Dalam studi selama setahun ini, kami melihat rawa air asin di lingkungan perkotaan dan non-perkotaan di Teluk Meksiko untuk melihat apakah ada perubahan pada habitat ikan atau struktur komunitas, atau apakah spesies ikan tertentu ada di satu rawa dan rawa. bukan yang lain. Penggunaan lahan perkotaan telah terbukti mengubah rawa asin melalui perubahan hidrologi, sedimentasi, dan vegetasi, tetapi sedikit yang diketahui tentang bagaimana penggunaan lahan perkotaan di dekat rawa garam berdampak pada ikan.
Dalam hal pengaturan khusus, tiga anak sungai yang kami pelajari memiliki lingkungan di sekitar mereka, dan tiga anak sungai memiliki hutan di sekitarnya. Kami menggunakan HOBO Conductivity Loggers dari Onset untuk mengukur salinitas dan suhu air di setiap lokasi.
Bagaimana para logger dikerahkan?
Kami memasang satu Data Logger Konduktivitas HOBO U24 per anak sungai. Saya menggunakan pipa PVC sebagai wadah untuk para logger, yang saya bor lubang dan menggunakan sekrup-atas untuk memudahkan akses saat membongkar data. Saya memasang pipa PVC ke kabel yang dilapisi dan membungkus kabel di sekitar blok cinder, yang saya keluarkan hingga kedalaman 4 hingga 5 kaki di setiap sungai saat air surut.
Orang-orang di daerah pemukiman memiliki akses yang baik ke anak sungai, dan saya tidak ingin ada yang mengotak-atik peralatan saya atau mungkin mencurinya. Jadi, penting bahwa para logger juga relatif tertutup.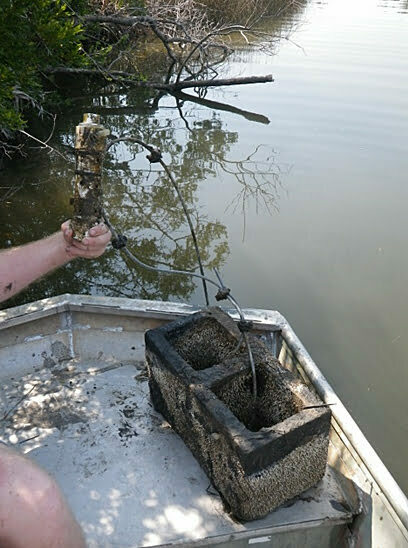 Selama penerapan, hanya untuk memastikan saya mendapatkan data yang benar setiap kali, saya menginstal HOBOware di laptop pribadi saya. Jadi saya akan membongkar beberapa data di lapangan dan melakukan pemeriksaan cepat dengan perangkat lunak untuk memastikan semuanya baik-baik saja.
Seberapa sering para logger melakukan pengukuran dan dibongkar?
Saya meminta sampel logger setiap lima menit. Saya mungkin bisa lolos dengan pengukuran yang lebih jarang, tetapi sangat bermanfaat untuk mengaturnya lebih sering. Kami membiarkan para logger mengisi data senilai 64 hari, dan kami akan keluar setiap dua bulan untuk membongkar data. Kami menggunakan Shuttle HOBO untuk pembongkaran. Selama kunjungan situs ini, saya juga mencoba untuk membersihkan logger dan case sedikit, jika teritip atau hal lain tumbuh di sana, dan kemudian memasukkan kembali logger itu.
Apa yang ditunjukkan oleh analisis Anda terhadap data?
Suhu air menjadi sangat mirip antara anak sungai perkotaan dan referensi, sementara salinitas berakhir lebih rendah di anak sungai perkotaan. Fluktuasi salinitas juga jauh lebih cepat di anak sungai perkotaan. Di lokasi ini, Anda memiliki banyak permukaan keras, trotoar dan atap, dan ada lebih banyak masukan air tawar dibandingkan dengan lokasi berhutan.
Secara umum, tingkat salinitas selama penelitian berkisar dari air tawar langsung hingga lebih dari 25 bagian per seribu.
Data tersebut tidak hanya memberi kami gambaran tentang apa yang terjadi di anak sungai dengan perbedaan tata guna lahan di sekitarnya, tetapi juga memungkinkan kami untuk melihat apa yang terjadi ketika sistem badai melanda, dan apa yang terjadi pada ikan setelahnya. Ini adalah keuntungan nyata dari pengambilan sampel setiap lima menit vs. sekali per jam. Sangat menyenangkan memiliki lebih banyak data yang direkam untuk menunjukkan bahwa badai, yang saya pikir akan berdampak pada salinitas dan suhu, ternyata memiliki dampak, daripada hanya mengatakannya secara anekdot.
Apakah ada keuntungan khusus dari HOBO Conductivity Logger untuk proyek ini?
Kami pikir ukuran dari logger merupakan keuntungan, karena logger yang lebih kecil kemungkinan besar akan lebih mudah kehilangannya. Jika Anda memiliki sesuatu yang lebih kecil, itu mungkin bisa dengan mudah ditutupi dengan teritip dan saya tidak akan mendapatkan datanya. Harga juga merupakan keuntungan utama, karena memungkinkan kami melacak kondisi salinitas dan suhu di enam lokasi berbeda.
Gambaran
Data logger konduktivitas dengan akurasi tinggi ini adalah cara yang hemat biaya untuk mengumpulkan data kualitas air . HOBO U24 mengukur dan mencatat konduktivitas dan suhu di sungai, danau, dan sumber air tawar lainnya. Logger ini direkomendasikan untuk memantau akuifer untuk intrusi air asin dan jalan serta limpasan pertanian. 
Akses terbuka produk ini ke sensornya menyederhanakan pembersihan dan perawatan. Sensor non-kontak HOBO U24 meminimalkan kesalahan pengukuran yang terkait dengan penyimpangan. Selain itu, logger memiliki fitur kompensasi drift berbasis perangkat lunak. Data logger Konduktivitas HOBO U24 memiliki fitur sensor non-kontak dengan lapisan Titanium Pentoxide. Lapisan ini mencegah sensor bersentuhan dengan air, yang pada gilirannya mencegah noda atau korosi yang terkait dengan sensor elektroda tradisional. Lapisan sensor ini juga inert, memungkinkan fouling dengan mudah dihapus dari sensor.
Features
Non-contact sensor provides long life and less measurement drift
Provides easy access to sensor for cleaning and shedding air bubbles
HOBOware Pro software enables start/end-point calibration to compensate for any fouling and provides easy conversion to specific conductance and salinity
USB optical interface provides high-speed, reliable data offload in wet environments
Compatible with the HOBO Waterproof Shuttle for easy and reliable data retrieval and transport
Specifications
Measurements
Actual Conductivity, Temperature, Specific Conductance at 25°C (calculated)
Conductivity Calibrated Measurement Ranges
Low Range: 0 to 1,000 µS/cm
Full Range: 0 to 10,000 µS/cm
Conductivity Calibrated Range – Temperature Range
5° to 35°C (41° to 95°F)
Conductivity Extended Ranges
Low Range: 0 to 2,500 µS/cm
Full Range: 0 to 15,000 µS/cm
Temperature Measurement Range
-2° to 36°C (28° to 97°F)
Specific Conductance Accuracy (in Calibrated Range)
Low Range: 3% of reading, or 5 µS/cm, and
Full Range: 3% of reading, or 20 µS/cm, whichever is greater, using Conductivity Data Assistant and calibration measurements
Conductivity Resolution
1 µS/cm
Temperature Accuracy
0.1°C (0.2°F) at 25°C (77°F)
Temperature Resolution
0.01°C (0.02°F)
Conductivity Drift
Less than 3% sensor drift per year, exclusive of drift from fouling
Response Time
1 second to 90% of change (in water)
Operating Range
-2° to 36°C (28° to 97°F) – non-freezing
Memory
18,500 temperature and conductivity measurements when using one conductivity range; 11,500 sets of measurements when using both conductivity ranges (64 KB total memory)
Sample Rate
1 second to 18 hrs, fixed or multiple-rate sampling with up to 8 user-defined sampling intervals
Clock Accuracy
±1 minute per month
Battery
3.6 Volt lithium battery
Battery Life
3 years (at 1 minute logging)
Maximum Depth
70 m (225 ft)
Weight
193 g (6.82 oz), buoyancy in freshwater: -59.8 g (-2.11 oz)
Size
3.18 cm diameter x 16.5 cm, with 6.3 mm mounting hole (1.25 in. diameter x 6.5 in., 0.25 in. hole)
Wetted Housing Materials
Delrin®, epoxy, stainless steel retaining ring, polypropylene, Buna rubber O-ring, titanium pentoxide (inert coating over sensor)
Environmental Rating
IP68