Indonesia terletak di daerah yang beriklim tropis. Daerah yang beriklim tropis memiliki dua musim, yakni musim hujan dan musim kemarau. Musim hujan terjadi pada bulan Oktober hingga April, sedangkan musim kemarau terjadi pada bulan April hingga Oktober. Namun, pola musim pada bulan-bulan tersebut tidak lagi dapat digunakan sebagai acuan. Perubahan iklim global yang disebabkan efek global warming telah berpengaruh terhadap iklim dan cuaca di Indonesia.
Beberapa dampak yang ditimbulkan antara lain, musim di Indonesia berubah menjadi tidak menentu, intensitas hujan meningkat, dan meningkatnya banjir di daerah yang selama ini dikenal jarang terjadi banjir. Berbagai dampak tersebut sangat mempengaruhi perencanaan dan perancangan berbagai bangunan yang memerlukan data hidrologi dalam pelaksanaannya.
Bencana banjir sudah menjadi langganan setiap tahun pada saat musim penghujan selama puluhan tahun di wilayah Bekasi. Banjir adalah aliran/genangan air yang menimbulkan kerugian ekonomi atau bahkan menyebabkan kehilangan jiwa. Aliran/genangan air ini dapat terjadi karena adanya luapan-luapan pada daerah di kanan atau kiri sungai/saluran akibat alur sungai tidak memiliki kapasitas yang cukup bagi debit aliran yang lewat.
Bencana banjir selain akibat kerusakan ekosistem ataupun aspek lingkungan yang tidak terjaga tetapi juga disebabkan karena bencana alam itu sendiri seperti curah hujan yang tinggi. Dalam perencanaan bangunan pengendali banjir (saluran drainase, tanggul, dan lain-lain) data masukan curah hujan sangat diperlukan.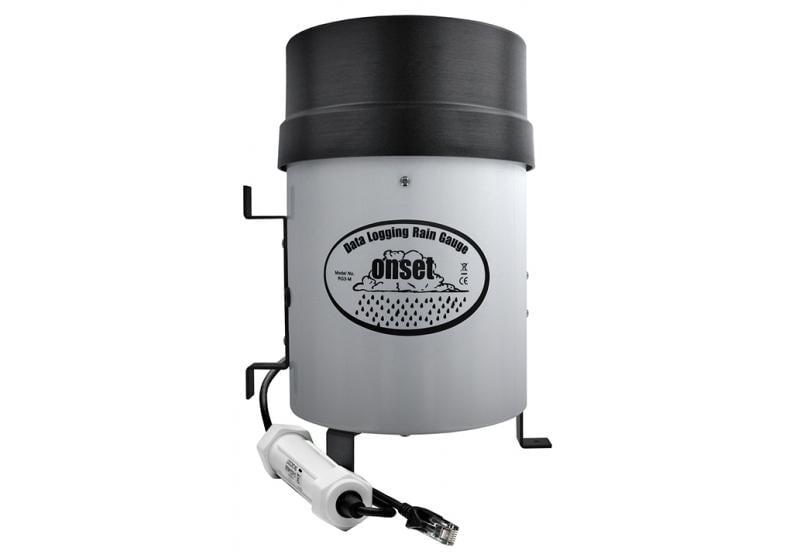 0.2 mm Rainfall (2m cable) Smart Sensor S-RGB-M002
Rain Gauge Smart Sensor ini mengukur curah hujan dengan resolusi 0,2 mm, dan akurasi 1% untuk curah hujan hingga 12,7 cm. Mekanisme tipping bucket dipasang pada poros baja tahan karat dengan bantalan kuningan. Model ini mencakup kabel 2m.
Fitur S-RGB-M002
Mengukur curah hujan hingga 12,7 cm per jam
Resolusi 0,2 mm
Maksimum 4000 tip per interval
Kabel 2m
Spesifikasi S-RGB-M002
Measurement range: 0–12.7 cm or 0–5 in. per hour; maximum 4000 tips per interval
Operating range: 0° to 50°C (32° to 122°F); survival -40° to 75°C (-40° to +167°)
Mechanism: Tipping bucket, stainless steel shaft with brass bearings
Resolution: 0.2 mm (S-RGB) 0.01 inch (S-RGA) models
Calibration: Requires annual calibration; can be field calibrated by user or returned to factory
Calibration accuracy: ±1.0% at up to 20 mm or 1″ per hour
Housing: Aluminum housing and collector
Dimensions: 22.8 cm height x 15.4 cm diameter (9″ height x 6″ diameter), 154 mm receiving orifice (6.06″)
Approximate weight: 1 Kg (2 lbs)
Cable lengths: 2 meter, 6.5 feet
HOBO RX3000 Remote Monitoring Station Data Logger RX3000
HOBO RX3000, stasiun pencatatan data jarak jauh Onset yang paling fleksibel, menyediakan akses instan ke data lingkungan spesifik lokasi di mana saja, kapan saja melalui internet. Stasiun ini menggabungkan keserbagunaan dan kualitas sensor dari sistem yang lebih mahal, layar LCD onboard, dan kenyamanan pengoperasian plug-and-play. RX3000 adalah sistem yang dapat dikonfigurasi.
Fitur RX3000
Dukungan fleksibel untuk berbagai sensor
Layar LCD untuk penyebaran lapangan yang mudah
Akses data berbasis cloud melalui HOBOlink :

Dapatkan akses web 24/7 ke data Anda melalui browser web
Verifikasi status sistem RX3000 dari jarak jauh
Siapkan dan kelola pemberitahuan alarm melalui web
Jadwalkan pengiriman data otomatis

Operasi plug-and-play
Pemberitahuan alarm melalui teks, email
Kandang tahan cuaca ganda yang kokoh
Pilihan seluler, Wi-Fi, dan Ethernet tersedia
Dapat dikonfigurasi dari perangkat seluler Anda
Modul Input Analog, Relai, dan Sensor Ketinggian Air Opsional
Pemantauan ketinggian air dan aliran air jarak jauh dengan modul ketinggian air Onset (RXMOD-W1)
Spesifikasi RX3000
Operating Range
-40° to 60°C (-40° to 140°F); no remote communications for battery voltage less than 3.9 V DC
Smart Sensor Connectors
10
Smart Sensor Network Cable Length
100 m (328 ft) maximum
Smart Sensor Data Channels
Maximum of 15 (some smart sensors use more than one data channel; see sensor manual for details)
Module Slots
2
Logging Rate
1 second (RX3001 and RX3002) or 1 minute (RX3003 and RX3004) to 18 hours
Time Accuracy
±8 seconds per month in 0° to 40°C (32°F to 104°F) range;
±30 seconds per month in -40° to 60°C (-40° to 140°F) range
Battery Type/Power Source
4 Volt, 10 AHr, rechargeable sealed lead-acid; external power required using one of these options: AC power adapter (AC-U30), solar panel (SOLAR-xW), or external power source 5 V DC to 17 V DC with external DC power cable (CABLE-RX-PWR)
Rechargeable Battery
Service Life
Typical 3–5 years when operated in the temperature range -20° to 40°C (-4°F to 104°F); operation outside this range will reduce the battery service life
Memory
32 MB, 2 million measurements, continuous logging
Alarm Notification Latency
Logging interval plus 2–4 minutes, typical
Enclosure Access
Hinged door secured by two latches with eyelets for use with user-supplied padlocks
LCD
LCD is visible from 0° to 50°C (32° to 122°F); the LCD may react slowly or go blank in temperatures outside this range
Materials
Outer enclosure: Polycarbonate/PBT blend with stainless steel hinge pins and brass inserts; Inner enclosure: Polycarbonate; Gaskets: Silicone rubber; Cable channel: EPDM rubber; Cable opening cover: Aluminum with ABS plastic thumb screws; U-Bolts: Steel with zinc dichromate finish
Size
18.6 x 18.1 x 11.8 cm (7.3 x 7.1 x 4.7 in.); see diagrams on next page
Weight
2.2 kg (4.85 lb)
Mounting
3.8 cm (1.5 inch) mast or wall mount
Environmental Rating
Weatherproof enclosure, NEMA 4X (requires proper installation of cable channel system)
Untuk Selengkapnya kunjungi link dibawah :