Dengan undang-undang budidaya perkebunan yang ketat, peraturan penggunaan air, dan biaya operasional yang tinggi, petani harus mengatasi berbagai tantangan sebelum mendapat untung. Untuk memaksimalkan hasil, petani kebun harus sepenuhnya memahami kondisi pertumbuhan dan komponen penting dari proses tersebut, seperti penyiraman. Segala jenis penyiraman yang tidak tepat dapat menyebabkan penurunan hasil. Tetapi tanaman perkebunan yang terlalu banyak menyiram juga menghabiskan sumber daya yang berharga dan diatur, sehingga kehilangan tak terduga dari kebocoran irigasi bisa sangat merusak.
Menyadari bahwa data yang dapat diandalkan dapat membantunya menghemat air dan meningkatkan bisnisnya, seorang petani California baru-baru ini menghubungi Onset untuk mendapatkan solusi hemat biaya yang dapat memantau banyak titik di seluruh propertinya. Tujuannya adalah membeli sistem yang tidak hanya memantau kondisi tanaman di luar ruangan, rumah kaca, dan ruang kering, tetapi juga memberinya peringatan waktu nyata tentang potensi masalah, sehingga dia dapat bereaksi cepat untuk menghemat air – prioritas tertingginya.
merekomendasikan HOBO RX3000, sistem pemantauan berbasis web, dengan stasiun HOBO RX3000 yang fleksibel sebagai komponen intinya. Stasiun ini dapat menerima data dari 10 sensor plug-and-play berkabel, dan hingga 50 sensor nirkabel, sehingga petani dapat mengukur kondisi cuaca seperti angin dan curah hujan, dan kondisi lingkungan seperti kelembaban relatif dan kelembaban tanah – tanpa harus untuk menjalankan kabel yang dapat mengganggu pengoperasian.
Sistem HOBO RX3000 menawarkan jangkauan luas dengan teknologi mesh nirkabel 900 MHz untuk sinyal yang kuat dan andal yang dapat berkomunikasi melalui tumbuhan. Dilengkapi dengan kemampuan komunikasi Seluler, Wi-Fi, atau Ethernet, stasiun RX3000 secara mulus mendorong data ke HOBOlink, platform berbasis cloud Onset. Dengan HOBOlink, pengguna dapat melihat dan mengelola data dan mengkonfigurasi pemberitahuan alarm waktu nyata yang dikirim melalui teks dan / atau email jika kondisi melebihi ambang batas yang ditetapkan pengguna.
HOBO RX3000 Remote Monitoring Station Data Logger
HOBO RX3000, station data logger jarak jauh Onset yang paling fleksibel, menyediakan akses cepat ke data lingkungan spesifik lokasi di mana saja, kapan saja melalui internet. Stasiun ini menggabungkan keserbagunaan dan kualitas sensor dari sistem yang lebih mahal, layar LCD onboard, dan kenyamanan pengoperasian plug-and-play. RX3000 adalah sistem yang dapat dikonfigurasi (lihat tab "Sistem Konfigurasi" di bawah).
RX3000 station adalah komponen dasar Sistem Pemantauan Lapangan HOBOnet yang hemat biaya dan dapat diskalakan untuk pengelolaan tanaman, penelitian lingkungan, dan operasi rumah kaca.
Features
Dukungan fleksibel untuk berbagai sensor
Layar LCD untuk penyebaran lapangan yang mudah
Akses data berbasis cloud melalui HOBOlink

Dapatkan akses web 24/7 ke data Anda melalui browser web
Verifikasi status sistem RX3000 dari jarak jauh
Siapkan dan kelola pemberitahuan alarm melalui web
Jadwalkan pengiriman data otomatis

Operasi plug-and-play
Pemberitahuan alarm melalui teks, email
Kandang tahan cuaca ganda yang kokoh
Pilihan seluler, Wi-Fi, dan Ethernet tersedia
Dapat dikonfigurasi dari perangkat seluler Anda
Modul Input Analog, Relai, dan Sensor Ketinggian Air Opsional
Pemantauan ketinggian air dan aliran air jarak jauh dengan modul ketinggian air Onset (RXMOD-W1)
Akses ke model risiko penyakit tanaman dan hama serangga NEWA
Specifications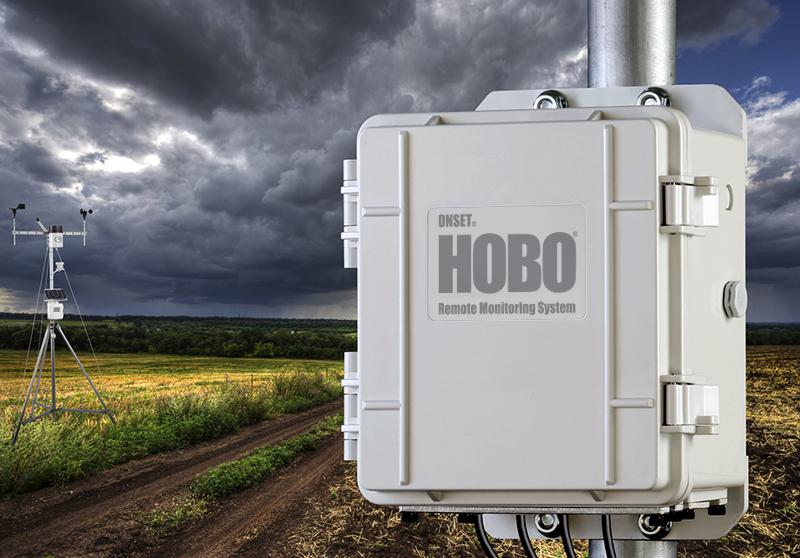 Operating Range
-40° to 60°C (-40° to 140°F); no remote communications for battery voltage less than 3.9 V DC
Smart Sensor Connectors
10
Smart Sensor Network Cable Length
100 m (328 ft) maximum
Smart Sensor Data Channels
Maximum of 15 (some smart sensors use more than one data channel; see sensor manual for details)
Module Slots
2
Logging Rate
1 second (RX3001 and RX3002) or 1 minute (RX3003 and RX3004) to 18 hours
Time Accuracy
±8 seconds per month in 0° to 40°C (32°F to 104°F) range;
±30 seconds per month in -40° to 60°C (-40° to 140°F) range
Battery Type/Power Source
4 Volt, 10 AHr, rechargeable sealed lead-acid; external power required using one of these options: AC power adapter (AC-U30), solar panel (SOLAR-xW), or external power source 5 V DC to 17 V DC with external DC power cable (CABLE-RX-PWR)
Rechargeable Battery
Service Life
Typical 3–5 years when operated in the temperature range -20° to 40°C (-4°F to 104°F); operation outside this range will reduce the battery service life
Memory
32 MB, 2 million measurements, continuous logging
Alarm Notification Latency
Logging interval plus 2–4 minutes, typical
Enclosure Access
Hinged door secured by two latches with eyelets for use with user-supplied padlocks
LCD
LCD is visible from 0° to 50°C (32° to 122°F); the LCD may react slowly or go blank in temperatures outside this range
Materials
Outer enclosure: Polycarbonate/PBT blend with stainless steel hinge pins and brass inserts; Inner enclosure: Polycarbonate; Gaskets: Silicone rubber; Cable channel: EPDM rubber; Cable opening cover: Aluminum with ABS plastic thumb screws; U-Bolts: Steel with zinc dichromate finish
Size
18.6 x 18.1 x 11.8 cm (7.3 x 7.1 x 4.7 in.); see diagrams on next page
Weight
2.2 kg (4.85 lb)
Mounting
3.8 cm (1.5 inch) mast or wall mount
Environmental Rating
Weatherproof enclosure, NEMA 4X (requires proper installation of cable channel system)
Link pembelian : https://www.tokopedia.com/raya-stock/hobo-remote-monitoring-station-data-logger-rx3000?refined=true&whid=0
HOBOlink Web-Based Display/Readout
Dapatkan pemberitahuan
HOBOlink akan mengirimkan email atau pesan teks / SMS ke ponsel Anda ketika kondisi melebihi ambang batas yang ditetapkan. Berbagai tingkat alarm dan tindakan dapat diatur untuk setiap sensor. Anda juga dapat menyetel alarm sistem untuk memberi tahu Anda jika ada yang tidak beres dan perlu perhatian.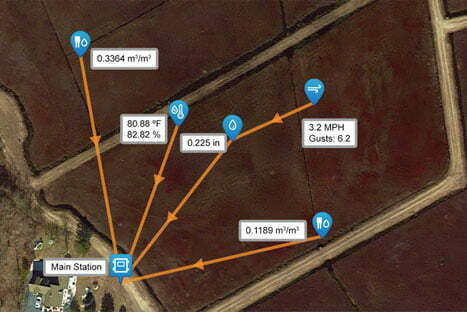 Pantau stasiun Anda dengan Google Maps
HOBOlink mengintegrasikan Google Maps untuk memungkinkan Anda melihat semua perangkat HOBO Anda dengan cepat, atau melihat pola koneksi untuk sistem HOBOnet Anda, dan menelusuri detailnya. Arahkan kursor ke ikon perangkat Anda untuk melihat bacaan dari koneksi terakhir, status alarm, dan lainnya.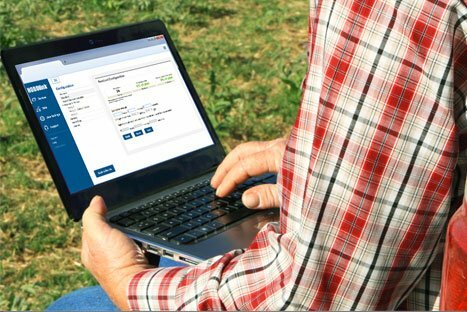 Konfigurasi berbasis web yang mudah
HOBOlink memungkinkan Anda untuk dengan mudah mengkonfigurasi sensor, tingkat pencatatan, pemberitahuan alarm, tindakan relai, dan banyak lagi.
Dasbor
Dasbor HOBOlink memungkinkan visualisasi instan dari data Anda saat ini dan data historis, dan dapat disesuaikan dengan kebutuhan spesifik Anda dengan pembuat dasbor dan perpustakaan widget kami
Fitur Utama HOBOlink
Akses data Anda dengan browser web atau perangkat seluler
Verifikasi status HOBO Station 'dari jarak jauh
Siapkan dan kelola pemberitahuan alarm dari jarak jauh
Jadwalkan pengiriman data secara otomatis
Konfigurasikan dasbor yang menyoroti pengukuran terpenting Anda
Buat dasbor yang menyatukan data dari beberapa sistem dalam satu tampilan
Konfigurasi saluran yang dihitung seperti titik embun, akumulasi curah hujan, dan evapotranspirasi (ET)
Ekspor sensor dan rentang tanggal tepat yang Anda inginkan
Konfigurasikan umpan data dengan mudah ke perangkat lunak terkemuka di industri, termasuk Aquarius, NEWA (Jaringan untuk Aplikasi Lingkungan dan Cuaca), dan Datawise
HOBOlink mendukung berikut ini:
Stasiun MicroRX HOBO
Gerbang HOBO MX
Sistem Pemantauan Jarak Jauh HOBO RX3000
Sistem Pemantauan Lapangan HOBOnet
Sistem Pemantauan Jarak Jauh HOBO U30
Dia juga memasang Sensor Kelembaban Tanah Multi-Kedalaman HOBOnet nirkabel baru di dua lokasi pemangkasan yang berbeda dan mengatur pemberitahuan alarm untuk ini juga. Karena sensor multi-kedalaman memantau kelembapan tanah di sepanjang kedalaman akar, penanam dapat meningkatkan perencanaan irigasi dan memastikan tersedianya air yang cukup, tanpa penyiraman berlebihan. Untuk lebih memaksimalkan hasil panen, penanam juga menggunakan beberapa Sensor Potensi Air Tanah / Suhu HOBOnet untuk lebih memahami stres yang dialami tanaman karena kelembaban yang tersedia di tanah.
Setelah melihat dengan cepat penghematan konsumsi air yang signifikan, penanam telah memperluas sistem HOBOnetnya dengan menyertakan sensor kelembaban / suhu / EC tanah, serta sensor intensitas cahaya dan suhu / RH di rumah kaca dan ruang keringnya untuk kondisi lintasan yang lebih baik di sana.